Entrance Interview: Caleb Furst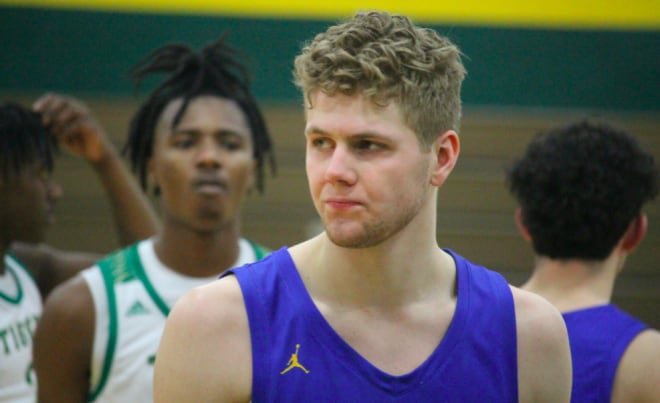 One of the most decorated recruits of the Matt Painter Era at Purdue, Caleb Furst started school Monday along with his two classmates, beginning a freshman year he'll hope will set a foundation for an outstanding Boilermaker career to come.
Following Saturday night's Indiana All-Star event at Southport, GoldandBlack.com caught up with Indiana's Mr. Basketball for this Entrance Interview.
GoldandBlack.com: What excites you most about going off to play college basketball at Purdue?
Furst: "Just being able to start building relationships with all the guys down there and challenging myself against such great players, becoming part of that community."
GoldandBlack.com: What would success look like for you right away?
Furst: "Obviously I have no idea what my role's going to be, no idea about minutes or anything like that. I'm just going to accept any role they give me and try to excel in that role to the best of my ability."
GoldandBlack.com: Is there anything about college basketball that you might be a little nervous, anxious or at least curious about?
Furst: "Not necessarily. I know for a lot of guys it might be the shot clock, but we just did that (with the Indiana All-Stars) and we've played with it in AAU. Nothing really in particular. I'm just excited about everything."
GoldandBlack.com: I know it's a bit early for this question, but is there a type of role you feel like you might be able to carve out for yourself at Purdue right away?
Furst: "I really have no idea. I'm just going to trust Coach Painter, trust his judgment, and just do what he asks to the best of my ability."
GoldandBlack.com: In terms of the basketball fit, you feel like you're in a pretty good place right now to play more away from the basket than you might have in high school?
Furst: "It's obviously something I've been working on. I shot it a little rough (on Saturday night), but it's definitely something I've been working on and hopefully (it pays off)."
GoldandBlack.com: How did it go playing with Trey really for the first time this past week?
Furst: "It was great. I'd played against him a few times. I feel like both of us are pretty unselfish in that we like to pass and I think we played really well together."
GoldandBlack.com: So it's you, Trey, Brian Waddell and Jaden Ivey in an apartment together, huh?
Furst: "Yeah, Trey and Brian are pretty quiet guys, and I'm a pretty quiet guy myself, so I might have to be a little more extroverted in that situation but I'm looking forward to it."
GoldandBlack.com: You're wearing No. 3 at Purdue. Is there any significance to that number for you?
Furst: "It's just my high school number, what I'm used to do. Didn't really want to switch it up."
GoldandBlack.com: Can you just speak to what you took from playing for your high school coach, Marc Davidson, this season while he battled cancer? I saw in the All-Stars program you listed him as your basketball role model.
Furst: "You know, he's a great coach, but an even better man off the court, and to see the way he went through that and not only maintained his faith in Jesus, but grew it stronger, was great to see. It really inspired and challenged all of us in our own relationships with Christ."
GoldandBlack.com: You won a lot of games and a couple of championships in high school when there weren't pandemics. What does that background with winning mean to the standard you hold yourself to?
Furst: "Yeah, winning's something everybody always wants to do and I'm looking forward to doing a lot more of it at Purdue."