Express: Purdue approach driven by analytics
As soon as the halftime or post-game box score reaches Matt Painter, his focus turns to one category before all others, he says: Possessions.
A coaching pragmatist if there ever was one, it's long been the Boilermaker coach's belief that the team that has the ball more, that has more chances to score and keeps its opponent to fewer chances to score, will have an advantage.
For Painter, that view means a premium put on statistics such as turnovers and rebounding, especially the do-overs that come with the offensive variety.
But now more so than ever, Painter and his staff have more perspective on what Purdue's doing with those possessions, what's working, what's not, and where focus perhaps should lie, and that insight has shaped the way this Boilermaker team is playing.
Statistically, Purdue has been one of the best offensive teams in college basketball this season by many measures. According to KenPom.com's formula, the Boilermakers presently ranked fourth nationally in adjusted offensive efficiency, that measure being a composite of points per 100 possessions framed against such mitigating factors as trending, venue and caliber of opponent.
Assistant coach Greg Gary, who oversees Purdue's offense, said it's Purdue's offensive rating he views as most telling when gauging success, along with points per possession and, obviously, the final score.
But for Purdue, it's as much about process as outcome, and for that reason, one of second-year analyst Andrew McClatchey's first tasks during his post-game deconstruction work is to answer two questions about Purdue's offense.
1. How often did it get the ball in the paint — post-ups, drives, cuts, offensive rebounds — and how did it fare?
2. How often did it reverse the ball in halfcourt offense, moving it from one side to the other?
Those two factors typically correlate to success offensively, as Purdue sees it.
So has one of the simplest elements of the game: Passing.
Purdue's done a lot more of it during this winning streak that's changed its season. Statistically, the watershed moment was Notre Dame, arguably the Boilermakers' bottoming out during its non-conference struggles against a stiff schedule. Prior to, and including, that game, Purdue was 6-5; since, it's 11-1.
Every game has been different, but over the majority of that stretch, McClatchey said, Purdue's been passing the ball dozens more times per game — 40 was his estimate — and that's correlated with increased assist percentages, lowered turnover percentages and improved defense.
Maybe the single-biggest statistical win for Purdue this season has been its avoidance of turnovers, a welcomed development for a team breaking in more than half a roster's worth of new players, for which establishing chemistry was an extended process.
"I try to look at what's been working for us, and it's not turning the ball over," Gary said. "We've gotten some pretty good offensive possessions when we just don't turn the ball over or we get it to the second or third side. When we don't reverse the basketball, our numbers are very different."
Purdue lost from last year's team some of the better shooters it's had in its modern era, but with Carsen Edwards and Ryan Cline, it's on pace to rewrite its own three-point shooting record books anyway.
Through 22 games, Purdue's averaging just under 28 three-point attempts per game. Among high-major programs, only Villanova and Auburn shoot more threes per game.
That's Purdue playing to its strength, with Edwards and Cline, but also a reflection of the program putting an emphasis on "Moreyball," subscribing to a line of thinking associated with Houston Rockets G.M. Daryl Morey, built around the added payout of the three-pointer and the good sense in shooting those value-added shots in bulk.
Purdue is studying its results and the higher reward high-volume three-point shooting can bring, while working to cut out the lower-percentage two-point shots, notably the statistical pariah that is the long-range non-three jumper.
This season, McClatchey has been using ESPN's John Gasaway's shot volume index measure, too, to assess Purdue's offensive play.
"It's an estimate of your shot attempts per 100 possessions," he said. "Coach talks a lot about possessions, but when you relate it to time, that's hard to do in basketball like you can in football, because if you get a steal for an easy transition bucket, that's going to hurt your time of possession, but you're going to take that over a 25-second possession where you don't get a good look. You kind of have to tailor that to possessions, total. We look at like, 'How many shot attempts can we get per 100 possessions by limiting our turnovers and getting offensive rebounds.
"We look at it like, 'Are we shooting better than them?' and, 'Are we getting more attempts than them?' If we can do those things, we're probably going to be in a good position."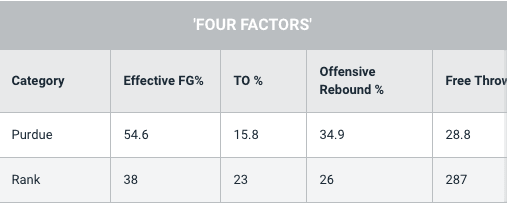 A look at how Purdue is faring under KenPom.com's interpretation of analyst Dean Oliver's 'Four Factors' theory regarding the keys to success in basketball. * FTA/FGAPurdue believes — and data very much backs it up — that better offensive possessions lead to better defensive possessions, because teams are much more likely to be back and established on defense when they've not taken a quick shot or turned the ball over.
But Purdue has also aimed to build a defense around percentages, putting every bit the emphasis on taking away the paint as it puts on claiming it on offense.
Assistant coach Steve Lutz, who oversees Purdue's defense, says one of his starting points when assessing opponents is their individual shooting percentages.
"We've always been a team that tries to take away or minimize what (opponents are) best at," Lutz said, "and if the percentages say we can help off someone or even back off and allow someone to shoot … if we can help off a player who might be making, on average, half a three a game, it's more important for us to take away the person who's getting 18 rebounds and nine rebounds and scoring at the rim."
That might make for some anxious moments when teams shoot better than their percentages against Purdue — as has happened frequently this season — but Lutz points to last season's win over Northwestern in Mackey Arena as an example of coaches having to make hard decisions at times.
In that game, Purdue allowed Wildcat big man Dererk Pardon mid-range jumpers, shots that weren't part of his regular repertoire. It wanted a body between him and the rim at all times, and it wanted the lane protected as part of its defense of others.
He made them, to the point that Purdue had to win the game in the final minutes on its home floor.
"We decided we were going to live with that, weigh the pluses and the minuses and play the percentages the best that you can," Lutz said.
That being said, Purdue did carry out its primary objective of neutralizing Bryant McIntosh and, most importantly of course, won the game.
On Saturday night against Nebraska, Thomas Allen burned Purdue for five threes and 18 points.
"Thomas Allen is a good three-point shooter," Lutz said. "We understood that and knew that and we wanted to limit him. But if we could take away James Palmer and Glynn Watson and Isaiah Roby, which we did a good job, we didn't feel like the numbers told you Thomas Allen could beat you."
Palmer, Watson and Roby were a combined 10-of-33 and Purdue dominated the second half and won by 18.
That's been Purdue's way this season, to assess individuals' capacity to make threes, with an eye toward allocating resources to higher-priority targets.
With the exception maybe of only Texas, it's worked out.
"At the end of the day, I'm not saying that's the right way or the wrong way to do it," Lutz said, "but I certainly believe in that philosophy."
And even if a team shoots above its prior body of work, offense and defense are interconnected in the grand scheme of things.
"Earlier in the season, even though we weren't defending the three very well, we were able to limit (opponents') shot attempts by turning them over and being a good defensive rebounding team," McClatchey said. "Lately our defensive rebounding hasn't been great, but our ability to get shots offensively by not turning the ball over and grabbing offensive rebounds ourselves has kind of offset that, because we're getting more shot attempts than our opponents are."
That's basketball nowadays, viewed through and shaped by hard data, of which there's more available than can be applied usefully, making the ability to interpret and prioritize analytics just as important as having them in the first place.
"You can absolutely overload yourself with all the data," Gary said, "so I just try to stay focused on, 'Hey, this is my job, this is what I want our offense to be, to be efficient,' and it goes back to what Coach always says, that if we don't turn the ball over we're usually pretty efficient."