Hammons award surprising; health issues for Purdue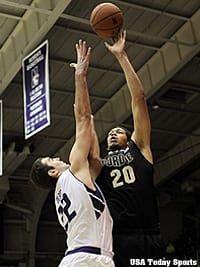 A.J. Hammons
was surprised when he received a text message Monday informing him he was named the Big Ten's Freshman-of-the-Week, since he didn't even know the award existed.
The Boilermaker center earned the nod after he combined for 49 points against Indiana and Northwestern.
It was Purdue's first league honor of the season, but met with something of a collective shrug around the program.
"I didn't play well the last game," Hammons said of his 19-point, 13-rebound game at Northwestern.
Coach Matt Painter has always maintained that individual awards are products of team accomplishments, but that theory didn't hold in this case.
"He had good numbers," Painter said on the Big Ten's weekly media teleconference. "I was kind of shocked to see he was Freshman-of-the-Week because we lost both games and you probably shouldn't get an award when you lose games. But he has done a good job for us."
Never again: Hammons didn't start at Northwestern after being late for the team bus.
"It was an immature mistake," Hammons said. "I over-slept a little bit. It won't happen again."
Anthrop out:
Senior
Dru Anthrop
sustained a mild break in his left hand Saturday at Northwestern. It's the guard's non-shooting hand.
"It looks like he'll be out for a couple weeks," Painter said. "I'm not totally sure after that about where it is. We'll kind of see what he can do here after a couple weeks. It's kind of wait-and-see."
Anthrop played two minutes in Evanston before getting hurt.
The injury comes at a time when Purdue's guard play lately has been particularly suspect and the veteran could conceivably have been in line for more opportunities.
Oddly, the injury also comes just a day after Anthrop's younger brother, football player
Danny Anthrop
, underwent ankle surgery in Indianapolis. He's likely to be sidelined roughly four months.
Feeling better:
Leading scorer
Terone Johnson
was badly ill last week between the Indiana and Northwestern games, missing Thursday's practice and being kept away from his teammates altogether because of it.
"I feel OK now," Johnson said. "I feel a lot better now."
The junior struggled against IU and Northwestern, scoring just nine points between the two losses on just 4-of-17 shooting.
"I wouldn't say so," Johnson said when asked if the illness contributed to his struggles. "It was just a sickness and I don't think it really affected my play really at all."
Shooting well:
After being plagued by inconsistency from the perimeter earlier in the season,
D.J. Byrd
is now shooting 42.4 percent from three-point range through the first half of the Big Ten season.
That ranks him eighth in the Big Ten in conference games on 59 attempts, the most of any of league leader.
His average of 2.8 made threes per game leads the Big Ten in league games.
"I'm just trying to take my open shots," Byrd said. "Through the course of the season, you try to evaluate your shots and percentage, but at the same time, you just have to shoot and shoot good shots, open shots. That's what I've been doing the past couple games."
Byrd was asked if he's been getting the volume of "good shots" he could be getting, only for the ball to not find its way to him.
"I don't know if it's that," he said. "We have a lot of guys on the team who can attack the defense and we have Big A.J. in the middle. Hitting him, driving the lane, getting easy shots … When the drive and kick is there, most of the time it gets to me. That's how it is: You play the game to try to get high-percentage shots."
Click
Here
to view this Link.