Lafayette's Dravyn Gibbs-Lawhorn may turn out to be a high-level prospect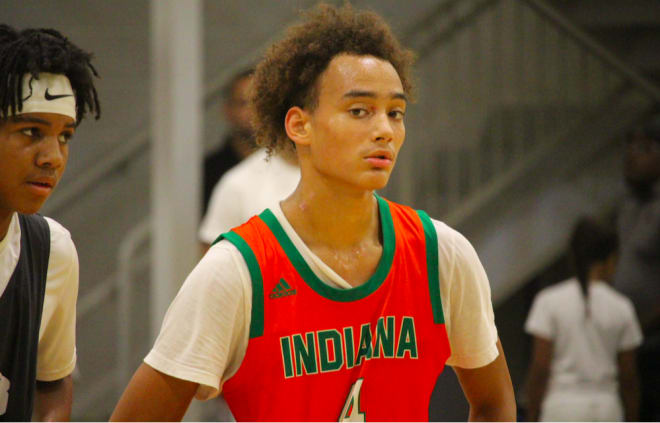 Purdue won't have to look very far for one of its top Class of 2023 targets, as McCutcheon High School's Dravyn Gibbs-Lawhorn figures to be a player Boilermaker coaches — among many others — zero In on from the rising-sophomore class.
The high-scoring guard and lifelong Lafayette resident wound up being quite mistaken early last season when he figured he might struggle throughout his freshman year.
"After the first game of the season — we lost to West Lafayette — I thought it might be a tough season," Gibbs-Lawhorn said at the Midwest Invitational last weekend at Grand Park, "and that I'd really have to get through it and get better, but after that game, it felt like it was just first-game jitters, because it just clicked after that and I felt like I was pretty good."
The 6-foot-1 scoring guard wound up averaging around 21 points per game for the season.
"I did kind of surprise myself," he said.
Under normal circumstances, this summer would have been an opportunity for Gibbs-Lawhorn to elevate his profile beyond his hometown. The pandemic, though, has cost and every other player in the country most of their opportunity to play against high-level competition at high-profile events.
"In my mind, that's for later down the road," Gibbs-Lawhorn said. "Right now my goal is getting to be the best basketball player I can be and then later on, getting my college paid for."
The tuition thing, that shouldn't be a problem.
Continue reading below
Gibbs-Lawhorn said Purdue, Butler, Indiana, Michigan State, Xavier and Cincinnati are among those who've shown Interest one way or another in the very early stages of his recruitment.
"I've heard Purdue's really interested," Gibbs-Lawhorn said of the Boilermakers. "I've already been on two visits. First for a game and then another time they just gave me a tour around (following elite camp). It's a blessing to have this interest."
Though it's early and this summer's been affected from an evaluations perspective, offers may not be far off for the 15-year-old.
In Gibbs-Lawhorn, colleges will see a multi-faceted, savvy and creative scorer. He may be considered undersized at the moment, but he hopes to top out around 6-5.
"I would kind of describe my game as a combo guard because I can run the point if you need me to," Gibbs-Lawhorn said. "I can get the ball up the floor and get assists, then I can be to be that 2-guard and score the ball if you need me to as well.
"I feel like I can get better on defense, and being more aggressive on the defensive end, and then in not showing my emotions as much when I'm on the court."
"It's just a lot of moves I've worked on a lot since I was little and now it's time to bring 'em out."