Purdue Basketball Notebook: Scrimmages set, a roster addition, more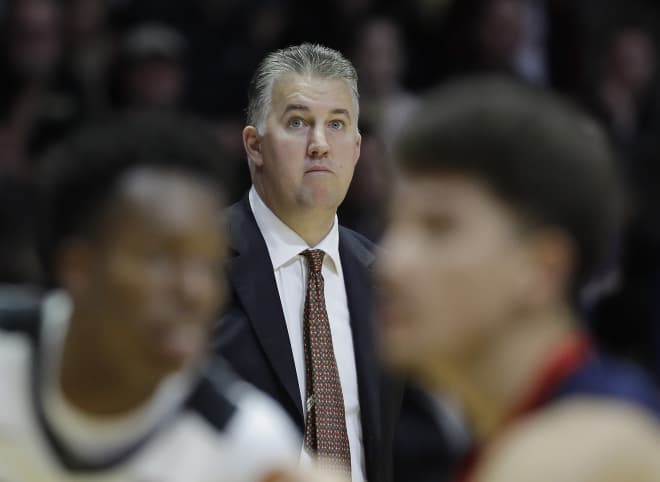 PURDUE SETS SCRIMMAGE SERIES
Following experiences with Dayton and West Virginia that Matt Painter deemed beneficial, Purdue will again conduct private preseason scrimmages each of the next two seasons, in lieu of a second exhibition home game.
The Boilermakers will scrimmage vs. Providence prior to each of the next two seasons, Painter told GoldandBlack.com Thursday. The two-scrimmage series will start Oct. 27, expected to be held in Indianapolis, then next season, the Boilermakers will travel out east to meet the Friars.
"Ed Cooley and I are friends and we wanted to play somebody different, somebody who changes defenses" Painter said. "They'll switch (screens) a lot, they'll pressure you, they'll play zone, an assortment of defenses. And his guys play hard and have been very successful. It'll give us a different look that'll help prepare us for the season.
"I don't know if we'll beat them or not, but whether we beat them or not doesn't matter. Getting better is what matters."
The private scrimmages are off limits to spectators and media, and take the place of traditional exhibition games, of which schools can play no more than two in most cases.
Purdue's lone exhibition game then will be the Nov. 1 meeting with Southern Indiana in Mackey Arena.
NEW WALK-ON ADDED
At the beginning of the fall semester, Purdue added freshman Matt Frost to its roster as a walk-on.
The 6-foot-5 forward from Columbus (Ind.) East High School averaged around 14 points as a senior.
He joins senior Tommy Luce and new sophomore Jared Wulbrun as Purdue's three non-scholarship players, though Luce could wind up occupying the scholarship that remains open.
With Frost's addition, Purdue's roster is now 15 deep.
KEY DATES
The first day for official practice this year has moved up to Sept. 24, though that occasion remains more ceremonial than anything as college teams practice in team settings all summer and into the fall.
College coaches are allowed back on the road to recruit off-campus beginning Monday.
Purdue's annual Fan Day open scrimmage and autograph opportunity is slated for Saturday, Oct. 19, the day the football team plays at Iowa.