Linebacker Cornel Jones hopes to show growth for Purdue this season
More: GoldandBlack.com training camp coverage
Purdue wants — probably needs — to see an improved-with-experience and, more importantly, more mature defense in 2019, however you want to define "mature."
While a slew of players can fit into that need for growth, perhaps none put a face on it more than Cornel Jones, the junior linebacker coming off a season of highs and lows, flashes of brilliance coupled with "dumb mistakes," as he called them.
His aim now: Maturity.
"They told me last year I had a lot of potential," Jones said, "and this year I can show more of that. The maturity can play a huge part."

By most measures, Jones' first season as a starter was a very good one, highlighted by him recording a team-best 12-and-a-half tackles for loss out of his 69 stops, good for fifth-most on the team, despite the fact he played only sparingly in the bowl game due to injury that kept him out of the majority of Purdue's pre-game practice work.
Jones started the season strong particularly strong, and when the Boilermakers scored what might have been the signature win of the entire college football season, he played 99 of 101 defensive snaps against Ohio State.
But untimely penalties not only cost Purdue yards last season, but almost certainly wins, and those were the "dumb mistakes" Jones speaks of now.
On Sept. 8, Jones' third-down sack against Eastern Michigan — his fourth of the game — seemed to seal a too-close-for-comfort win for Purdue in Ross-Ade Stadium. Instead, he drew a personal foul that bailed the Eagles out of fourth-and-forever and gave them a chance to shock the hosts, which they did, the low point of the Boilermakers' 0-3 start to the season.
Jones' penalty vs. Eastern Michigan was one of several for Purdue that contributed to its slow start. He certainly wasn't the only guilty party, but for the then-sophomore, it then proved a difficult habit to kick, because he was penalty-plagued throughout the season.
"How do you work on maturity?" Jones said when asked that very question. "I'm talking to Coach (Nick) Holt a lot and he told me sometimes being a young guy in certain situations you've got to turn the other cheek and just play the game between the lines, simple as that."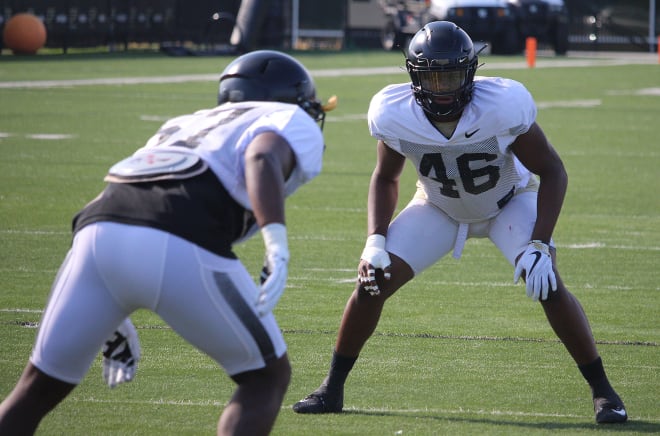 That's part of where Jones hopes to prove he's advanced this season, and it will come in a very different situation than last season. While Purdue's sideline lamented Jones' struggles with penalties and its coach promised consequences, there was a balance that had to be considered. Purdue had few options at linebacker, where it was perilously thin.
Now, barring anything unforeseen, the situation has changed.
Jones started 12 of Purdue's 13 games last season and certainly showed enough for his playing future to be considered a bright one.
Yet, this past week on the practice field, Jones found himself with the second team, as senior newcomer Ben Holt occupied the No. 1 middle linebacker spot.
"He needs to learn to work consistently and not just have flashes here and there," said Nick Holt, Purdue's defensive play-caller and linebackers coach, "and I think that's where we provide some really good leadership for him with Ben and Markus (Bailey), seeing how older guys handle things and come to work every day. I think it'll really benefit Cornel and I think between the three of those guys we can have three really good inside linebackers."
While Ben Holt may, at the very least, cut into Jones' snaps this season, Jones says he's "gaining something" from the competition, as his coach suggested he might from the veterans he's now surrounded by on both sides.
"When I'm called upon," Jones said. "I just have to make my plays, simple as that."
Jones has proven he can play. He's a physical player who was especially potent against the run last season, between the tackles, and after an off-season spent trimming down, it would stand to reason to suggest he should be even better this season now that experience is on his side.
Inexperience showed last season, he said, in how much he had "to think" on the field.
"Sometimes I can just be a football player now," Jones said. "I can do my job and more. I'm more confident."
Bailey has aimed to help Jones since his first days on Purdue's campus, and now sees a fellow linebacker who's more receptive to that help.
"He's definitely made some strides, but still has some room to go," Bailey said at Big Ten media day late in July, weeks before practice began. "He's definitely matured more over last year. I think he understands that I want what's best for him, and I'm not getting after him just to get after him because I don't like him or something like that.
"He understands I want what's best for our team and if I get hard on him or critique him, he doesn't get as defensive about it now, and I think that shows growth."