Auburn's sack leader 'doubtful' to play in Music City Bowl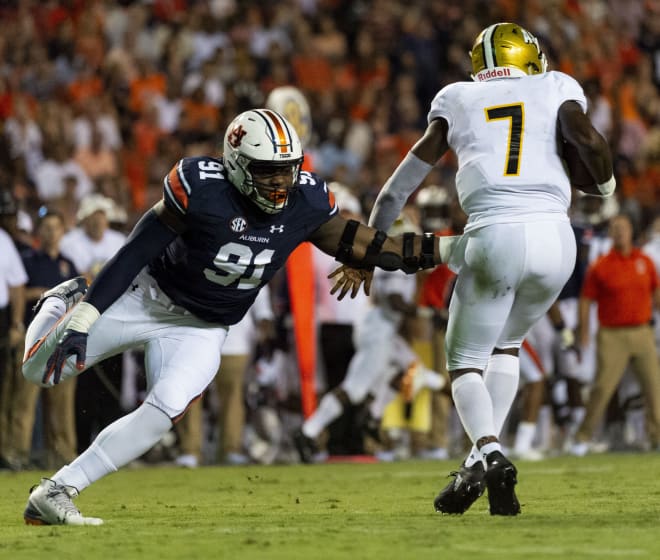 Auburn is likely to be without its most productive pass rusher in the Music City Bowl.
Tigers head coach Gus Malzahn confirmed Thursday night in his post-practice media session that sophomore defensive end Nick Coe is "doubtful" to play against Purdue on Dec. 28. The 282-pound defensive lineman, who leads Auburn in sacks (seven) and started 10 games this season in the Buck position, similar to Purdue's Leo spot, had surgery to repair an injured wrist following the 52-21 loss at Alabama in the regular season finale on Nov. 24.
"At this point, he's doubtful," Malzahn said. "That's probably the best way to put it."
Coe, a third-year sophomore, has been named the Southeastern Conference defensive lineman-of-the-week three times this season, with his breakout performance coming in a 31-16 win at Ole Miss, where he finished with three-and-a-half sacks. Coe has had at least one tackle for loss in every game he's played this season but one (vs. Alabama State) and is second on the team in that statistical category with 13.5.
If Coe is unable to play on Dec. 28 in the Music City Bowl against Purdue (1:30 p.m., ESPN), 253-pound linebacker Markaviest Bryant is likely to get the start for the Tigers. Bryant, a sophomore who is listed on Auburn's roster by his nickname of "Big Kat Bryant," started in place of Coe in two games this season and finished the 2018 regular season with 17 tackles. 3.5 tackles for loss and 3.5 sacks.

Malzahn, who also confirmed he'll be the offensive play-caller in the bowl game, said Thursday evening he was confident all other members on Auburn's roster would be available against Purdue.
"We know we're going to get (Purdue's) best just like we did last year with Central Florida," Malzahn said. "Our approach is that this is a big game for us and our guys understand that, and not just for the seniors and the older guys and finishing the right way, but for next year and the off-season and everything that goes with it. So we're really looking forward to playing Purdue in Nashville."