Five observations from Jeff Brohm's amended contract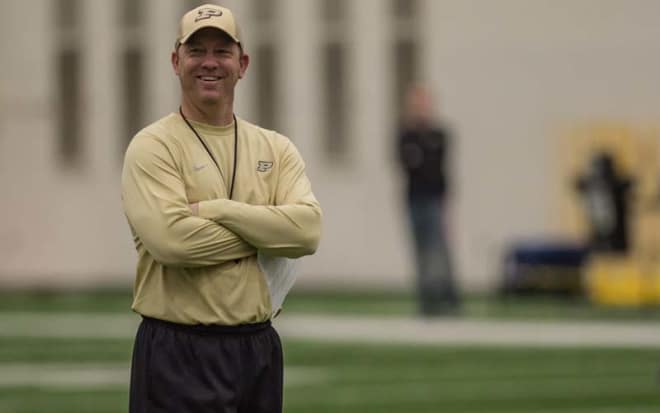 MORE: AD Mike Bobinski on Brohm's amended contract

Back in early April, the Purdue Board of Trustees approved an amended contract for Jeff Brohm. The new deal was reported to be worth $36.8 million over seven years. This is the second time Brohm has had his original contract (signed May 2017) amended. The first amendment was signed in May 2018 by Brohm.
Here are key observations from Brohm's amended contract, accessed via a public records request.
1. The contract runs through December 31, 2025, and was signed by Brohm on April 11, 2019. Other signatures: Athletic director Mike Bobinski (4/11/2019); President Mitch Daniels (4/16/2019); Thomas Spurgeon, compensation committee chair for the Board of Trustees (4/24/2019).

2. The assistant coaches compensation pool is $4.35 million. (The pool was $3.5 million in Brohm's first contract and $3.9 million in the first amended contract). Brohm and the athletic director "will evaluate the amount of the annual compensation pool annually to ensure it is competitive with Big Ten and other peer programs."

3. Brohm's base salary is $300,000. But an annual "supplemental stipend" pushes his annual compensation as follows:

2019: $3.9-million supplemental stipend—Total salary: $4.2

2020: $4.0—$4.3

2021: $4.1—$4.4

2022: $4.2—$4.5

2023: $4.3—$4.6

2024: $4.4—$4.7

2025: $4.5—$4.8

4. The amended contract includes multiple "retention incentives." If Brohm remains head coach through January 1, 2019, he will receive a retention incentive payment of $300,000 on or before May 31, 2019. It continues as follows:

2019: $400,000

2020: $500,000

2021: $600,000

2022: $600,000

2023: $600,000

2024: $600,000

5. In addition to the retention incentive payment, Brohm will receive a $1.7 million signing bonus which is fully guaranteed. The bonus will be paid in two equal installments of $850,000 the first of which will be paid on or before May 31, 2019, and second on or before January 31, 2020.