Big Ten Basketball Schedule Announced
The Big Ten Basketball Conference Schedule has been revealed.
We now know Purdue's entire schedule for the 2023-24 season:
Dec. 1 - @Northwestern
Dec. 4 - Iowa
Jan. 2 - @Maryland
Jan. 5 - Illinois
Jan. 9 - @Nebraska
Jan. 13 - Penn St.
Jan. 16 - @IU
Jan. 20 - @Iowa
Jan. 23 - Michigan
Jan. 28 - @Rutgers
Jan. 31 - Northwestern
Feb. 4 - @Wisconsin
Feb. 10 - IU
Feb. 15 - Minnesota
Feb. 18 - @Ohio St.
Feb. 22 - Rutgers
Feb. 25 - @Michigan
March 2 - Michigan St.
March 5 - @Illinois
March 10 - Wisconsin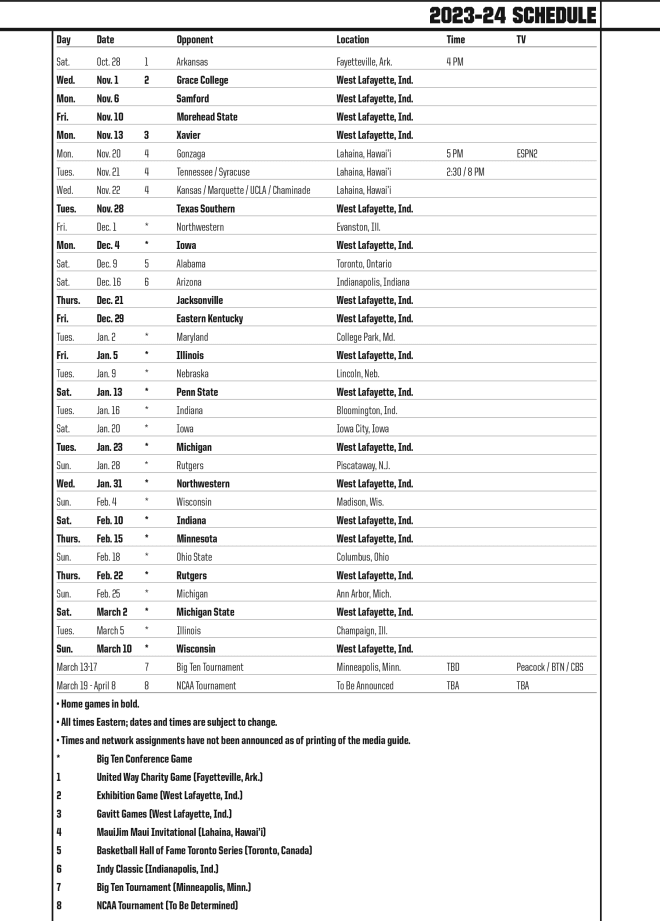 An already loaded non-conference.
Purdue will play two early conference games, returning to Northwestern on December 1st to play in Evanston where the Wildcats shocked the world and then #1 Boilermakers 64-58.

Purdue will then host Iowa just three days later in Mackey Arena.
Those two Big Ten games will sandwich in between what is one of the nation's toughest non-conference schedules which features a Gavitt Games match-up with Xavier before heading to Honolulu as part of the Maui Invitational which will include the #1 team in the country Kansas, a pair of teams Purdue beat last season in Marquette and Gonzaga, Syracuse, Tennessee, and UCLA.

Purdue will also head to Toronto, Canada to take on Alabama on December 9th and host Arizona on December 16th in Indianapolis.
A lone Spartan, an early revenge game, and an early game against IU.
Few rivalries are better than Purdue and Michigan St., Izzo and Painter, and this year it will only be played once when Purdue hosts Michigan St. on March 2nd.

It's likely the game could have heavy Big Ten implications that late into the season. Last year Purdue swept Michigan St., winning on a last-second bucket by Zach Edey, 64-63, before blowing the Spartans out in Mackey Arena a couple weeks later.

Purdue will also play the rebuilding Penn State Nittany Lions just once, at home on Jan. 13th and Minnesota on Feb. 15th also at home. This means that Purdue will get the Big Ten's most likely last place teams just the once each.

Purdue will play Nebraska just once as well, traveling to Lincoln, Nebraska to take on the Cornhuskers on January 9th. That matches with Purdue's lone game against Maryland on Jan. 2nd, also on the road. Maryland beat Purdue handedly last year at home 68-54. It was Purdue's only double-digit loss of the season. Ohio State is Purdue's other one game opponent, traveling to Columbus on February 18th where they won in come from behind fashion last season, 71-69.

Purdue's protected match-up with IU continues with Purdue going into Bloomington on January 16th where they've lost its last two matchups, and three straight in the series all together after IU swept Purdue last season. IU will come to Mackey Arena on February 10th.
Purdue will finish the season with Wisconsin playing at Mackey Arena on March 10th.