Blue-chip visitors take in Boilermaker opener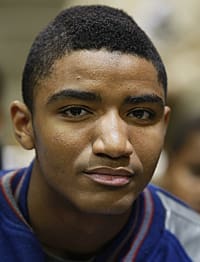 Sunday in Mackey Arena, Purdue opened its much-anticipated 2010-2011 season and unveiled its 22nd Big Ten championship banner in front of a slew of big-name recruits who traveled to West Lafayette for unofficial visits.
Among those confirmed to have visited are the following.
Class of 2012
Gary Harris
: The Rivals.com four-star prospect from Hamilton Southeastern is one of the top players in his class nationally. His mother, the former Joy Holmes, was a women's basketball star at Purdue.
Jay Simpson
: One of Purdue's three 2012 commitments, the Champaign (Ill.) Central big man is considered a top-100 player nationally.
Ronnie Johnson
: Likely to be a regular visitor, being that he's the younger brother of Purdue freshman
Terone Johnson
, the North Central point guard is an emerging high-major prospect.
Class of 2013
Basil Smotherman
: The Heritage Christian wing already has offers from Purdue, Indiana, Notre Dame and Xavier. He's one of the Boilermakers' top rising-sophomore targets.
Jaylon Tate
: The point guard from De La Salle High School in Chicago is one of the better guards in Illinois' sophomore class and has visited Purdue multiple times now.
Kendall Stephens
: The shooting guard from St. Charles (Ill.) East has Big Ten schools keeping watch over him early. He's the son of former Boilermaker Everette Stephens.
Jackson Lamb
: A 6-7 forward from Bedford High School in Temperance, Mich., is also fielding early Big Ten interest.
Jordan Pickett: Pickett's a 5-10 sophomore point guard at Pike in Indianapolis.
Class of 2014
Malik Yarbrough: The 6-3 guard from Benton High School in Zion, Ill., is one of Illinois' top 2014 prospects. ESPN has him ranked No. 16 nationally in the Class of 2014.
Drake Harris: ESPN pegs the 6-2 point guard from Grand Rapids (Mich.) Christian No. 17 nationally in the Class of 2014.
Justin King: A 6-6 forward from Gary's Bowman Academy, King's considered one of the top prospects in Indiana's 2014 class.
Tyler Wideman: The 6-6 forward from Lake Central is ranked by ESPN as the No. 47 player in 2014.
Paul Turner: The 6-4 shooting guard from Chicago St. Joseph already has an Illinois offer. ESPN has him 50th nationally in his class.
Click
Here
to view this Link.
Copyright, Boilers, Inc. 2010. All Rights Reserved. Reproducing or using editorial or graphical content, in whole or in part, without permission, is strictly prohibited.
E-mail GoldandBlack.com/Boilers, Inc.