Boilers adjusting to life after Smith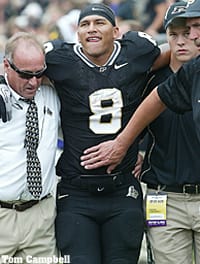 With official news coming down today that All-Big Ten receiver Keith Smith did indeed suffer a season-ending knee injury last Saturday against Western Illinois, the challenge now for the Boilermakers becomes getting themselves up for this week's home game versus Ball State and looking forward to the rest of the season.
The mood around the Purdue locker room following the 10-point win over the Leathernecks was anything but up and understandably so. That somber mood even continued some 24 hours later.
"The team was very quiet on Sunday after a win, and we don't usually have that happen," said Coach Danny Hope about the first day practicing without Smith. "We always try to make the most of a win regardless of the score or who it was against because it's so important you do win and have some fun when you do.
"But Sunday was a different Sunday than we've had since I've been back at Purdue, and a lot had to do with our concerns for Keith."
The players and coaches knew the news about Smith wasn't likely going to be good, but they were hoping for the best.
Seventy-two hours or so removed from witnessing the devastating injury the Boilermakers realized that 1,100 yards worth of receiving from a year ago is gone and others will have to try to fill the huge void left by Smith's absence.
"We have a lot of great players left on our football team, and we're right where we need to at as a football team, developing-wise with the non-conference games that we have on our schedule and the open week coming up," the second-year Boilermaker boss said.
"So we'll go out there and practice hard today. We have to because Ball State will come here on a mission to try to make a difference in their season with a win against a Big Ten team, and we have to recognize that and get ready to play."
The players are all sick that Smith will have to make his presence felt from the sidelines for the remainder of the season as he'll undergo reconstructive surgery to repair his torn ACL and MCL in his right knee.
Marve, for one, says he'll continue having a vocal presence on the field.
"I'm going to be loud and obnoxious, but I'll have some fun though," he said. "I'll help the guys out anyway I can. As the quarterback, I have to step up for the guys and everyone has to step up their game a little bit on both sides of the ball.
"I think everyone has to pick up their play," Kerrigan said. "We have to continue to do what we try to do every day and that's try to stop and when we get into passing situations, stop the pass.
"We have to have guys take it to another level now with the loss of Keith."
"You never want to lose a player like Keith," Adams said. "It's a tough thing to see, but we're going to be ready. There are a 105 guys that prepared for this season and Keith was one of them, an important one, but the other 104 are still prepared and ready to play and we're going to go out there and play hard."
As for Marve, he welcomes the challenge of trying to lift his team's spirits and says the Ball State game should do just that.
"It hurts that we lost him," he said. "That's obvious, but it's time to play ball and Saturday we have a game. We're very excited about it. I'm very excited about it. I would love to be 2-1 and be ahead of the chains a little bit I like to say and get things rolling."