Boilers By Numbers: No. 25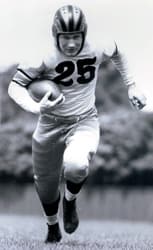 Note: This is just an example of the type of in-depth Purdue football practice coverage you can get with an Ultimate Ticket subscription to GoldandBlack.com. To subscribe or sign up for a seven-day free trial, click here.
No. 25 Boilermakers
Leading into the Sept. 5 season opener against Syracuse, GoldAndBlack.com will count down the days 'til the 2004 lidlifter by highlighting the former Boilermakers who wore the jersey corresponding to the days remaining until kickoff.
Below is a list of all Boilermakers who donned the No. 25 jersey*:
Tony Butkovich 1943, FB
John Charles 1964-66, HB
Ed Cody 1944-46, FB
Emerson Denton 1934, C
Scott Dierking 1973-76, HB
Tony Farquis 1983, FL
Walt Foster 1985-86, FB
Joey Harris 2001-02, RB
Cliff Jackson (also 3) 1998, WR
Jim Kirkpatrick 1967-68, HB
Dick Ohl 1958, HB
Bob Plaskon 1961, FB-HB
William Riblet 1932, 1934, HB-QB
Corey Rogers (also 44) 1991, TB
Neil Schmidt (also 59) 1948, HB
John Seibel 1979, K
Allen Shackleton 1937-39, QB
Curtis Taylor 1994, 96, TB
Bob Whitmer (also 40, 89) 1945, E
Donald Winston (also 1) 1999-2000, WR
Dunyasha Yetts 1990, WR
*Source: Purdue Football Information Guide
GoldandBlack.com's Top No. 25s:
Scott Dierking and Tony Butkovich had a few things in common. They were both from the state of Illinois, both fire-plug type running backs and both showed great courage to varying degrees.
Butkovich, who played at the University of Illinois the year before, played just one year as a Boilermaker in 1943 when he came to Purdue as a marine in training for the war effort. The '43 roster was comprised of 26 marines, nine Navy men and nine civilians. Butkovich played only seven games.
In one of his most spectacular performances, Butkovich scored four touchdowns against the Fighting Illini and averaged a mind-boggling 17.2 yards per carry. When he was done at Purdue, he had snapped the 21-year old Big Ten scoring record of 78 points while rushing for a school record 833 yards in 142 attempts (119 per game, 5.9 per carry). Butkovich and the Boilermakers finished the '43 season with a 9-0 record and were ranked in the top-five nationally, and Butkovich was named All-American. Tragically, Butkovich was killed in action in Okinawa a few months later.
Dierking's story was not nearly as dramatic, but his 162-yard rushing performance against No. 1 Michigan was courageous, nonetheless. Battling a bad ankle, Dierking rushed for 162 yards on a school-record 38 carries in a 16-14 win over Coach Bo Schembechler's Wolverines on Nov. 5, 1976. He gained an even 1,000 yards making him just one of seven Boilermakers to reach that plateau, and his 2,863 career yards is third most in Purdue history. Dierking enjoyed a seven-year NFL career with the Jets and Bucs and now works a few blocks from Wrigley Field for Hill Mechanical.
John Charles joined Butkovich as an All-American, making the grade as a defensive back on the Boilermakers' Rose Bowl team in 1966. He suffered an injury late in the '66 campaign, but returned in time for the game in Pasadena and was named MVP of Purdue's 14-13 win over USC. Charles played eight years in the NFL with the Patriots, Vikings and Oilers.
A player with great talent who never saw all of it come to the surface was Jim Kirkpatrick. Part of the problem for Kirkpatrick is that he played in the same backfield as Leroy Keyes and Perry Williams, although Kirkpatrick did lead the Big Ten in kickoff returns average on the Big Ten title team in 1967. In '68, the Charlotte, N.C., native averaged an impressive 5.4 yards per carry and scored three touchdowns for a squad that finished the season ranked 10th nationally with an 8-2 final record.
Like Kirkpatrick, Joey Harris didn't compete in his senior season leaving Boilermaker fans wanting more. Harris' 1,115 rushing yards in 2002 was the fourth-best in school history.
Ed "Catfoot" Cody
was part of the Boilermakers "Stopwatch Backfield" from 1944-46. He led the team in rushing his senior year and played in the
Chicago Tribune
College All-Star Game in 1947 before enjoying a brief career in pro football with the Bears and Packers.
Neil Schmidt
wore the jersey as a reserve halfback his sophomore season catching a touchdown pass. He started the final two seasons wearing jersey
No. 59
and is among the tops to wear that jersey.
Three years before Schmidt, Bob Whitmer was a starting left end for the '45 team that had true freshman quarterback Bob DeMoss directing the show. The Boilermakers had a good season finishing 7-3 with the highlight a 35-13 win at No. 4 Ohio State.
Like Schmidt and Whitmer, Corey Rogers wore the jersey for just one season. The Chicago running back finished second on the team in rushing with 508 yards in Coach Jim Colletto's first season at the helm in 1991. He was named Big Ten Freshman-of-the-Year for his efforts.
In 1990, Dunyasha Yetts made the rare transformation from college wrestler to football player. He caught five passes for 103 yards and a touchdown in Coach Fred Akers' last season at Purdue. John Seibel handled the kicking duties for the Boilermakers in their only 10-win season ever in 1979. He struggled at times, only connecting on two of eight field goal attempts, but he did manage to nail 34-of-38 PATs.
Junior college transfer Cliff Jackson caught passes in his first four games as a Boilermaker in 1998, but fell to a knee injury which ended his season in Game 5. Tiny receiver Donald Winston returned from injury to wear the jersey in 1999 and 2000, catching 20 balls from quarterback Drew Brees on the Rose Bowl team in 2000.
Our ranking of the best No. 25s:
1. Tony Butkovich, John Charles
3 Scott Dierking
4. Joey Harris
5. Ed "Catfoot" Cody
To view the entire list of Boilers By Numbers,
click here
Copyright, Boilers, Inc. 2004. All Rights Reserved. Reproduction or use in whole or in part, without permission, of editorial or graphical content in any manner is strictly prohibited.