Boilers By Numbers: No. 78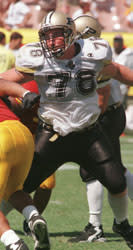 No. 78 Boilermakers
Leading into the Sept. 5 season opener against Syracuse, GoldAndBlack.com will count down the days 'til the 2004 lidlifter by highlighting the former Boilermakers who wore the jersey corresponding to the days remaining until kickoff.
Below is a list of all Boilermakers who donned the No. 78 jersey*:
Don Blalock 1976-77, DT
Larry Bowie 1959-61, T
J.M. Christman 1929-30, G
Mike Connors 1984-87, OL
John Drake 1934-36, FB
Jim Gasvoda 1969, T
George Ginn 1962, G
Fred Hecker 1932-33, HB-FB
Frank Hoffman 1956, 1957, T
Bronco Keser 1970-72, DT
Matt Light (also 91) 1998-2000, OT
Don Myers 1978-81, OG
Brian Nicley 1994-97, OL
Fred Preziosio 1951-52, T-G
Raymond H. Schultz 1944, QB
Jeff Stapleton 1973-75, OT
Larry Taylor (also 87) 1990, OG
Todd Troutman 1988, OT
Jim Welsch 1939, HB
*Source: Purdue Football Information Guide
Gold & Black.com's Top No. 78s:
In the last couple of decades of Purdue football, one would be hard pressed to find a better player than Matt Light. Not only has he been a starting tackle on a pair of Super Bowl championship teams, Light was an All-Big Ten performer on the 2001 Rose Bowl team in a addition to being named to some All-American teams.
From 1931-36, the Boilermakers had three terrific players that wore the jersey, two of whom where in the backfield.
Fred Hecker was a starting left halfback in 1932 when the Boilermakers posted a sparkling 7-0-1 mark under Coach Noble Kizer and saw enough time the following year at fullback to garner 53 rushing attempts. In '33 he was remarkably named team MVP on a talented squad that had the "Touchdown Twins" Jim Carter and Duane Purvis. John Drake was in the starting backfield from 1934-36, making All-Big Ten teams in his senior year while being named team MVP.
A two-year starter at defensive tackle in 1971-72, Bronco Keser played alongside talented players like Dave Butz, Gary Hrivnak and Steve Baumgartner in the trenches. The Johnstown, Pa., native posted 62 tackles in '71 and 57 tackles in '72 and had a nose for the ball recovering three fumbles in the process.
Two years later, Jeff Stapleton was a starting offensive tackle for Coach Alex Agase's squad. Stapleton, who started two years at the position, is in a class of his own in one respect. He was one of the few Boilermakers to hail from Bloomington, Ind.
Mike Connors was a three year starting tackle from 1985-87 under coaches Leon Burtnett and Fred Akers.
Brian Nicley was a starting center for Coach Jim Colletto in 1996, but when Joe Tiller arrived, he moved Nicley to left guard to make room for Jim Niedrach over the ball. There haven't been many guys since then that Tiller has moved from center to play someplace else.
Our ranking of the best No. 78s:
1. Matt Light
2. John Drake
3. Fred Hecker
4. Bronco Keser
5t. Mike Connors, Jeff Stapleton, Brian Nicley
To view the entire list of Boilers By Numbers,
click here
Copyright, Boilers, Inc. 2004. All Rights Reserved. Reproduction or use in whole or in part, without permission, of editorial or graphical content in any manner is strictly prohibited.