Boilers end camp, begin work for Notre Dame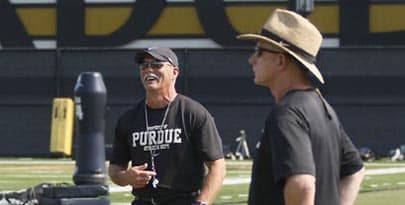 Purdue finished training camp Sunday and now slowly turns its attention to the Sept. 4 season opener at Notre Dame.
Classes begin Monday and the Boilermakers will resume a typical school-year practice schedule. Players will get Monday off before returning to the practice field Tuesday.
"We're going to get our own stuff ready for Notre Dame," Coach Danny Hope said. "We're going to take the things we're good at and become excellent at those things."
A mock scrimmage will be held at the end of the week, Hope said.
"Scout team and backups will emulate Notre Dame and we'll try to go through every game-type scenario that could emerge," he said. "We have a list of 100 plays that could happen in a game. It's more a dress rehearsal than a blood-and-guts, get-after-it scrimmage."
Hope said the team spent approximately the final 15 minutes of practice working with a scout team.
"We had the offense go against the scout team defense and the defense go against the scout team offense to just try to get them lined up and give them a clue on what's going on," Hope said.
New Additions
Noting he first needs to talk with recruiting coordinator Don Coller before making any final decisions, Hope expects some players will be added to the roster as walk-ons, likely early in the week.
"We're going to have to," Hope said, noting the team has just five offensive linemen on the scout team. "We have some guys that have already been earmarked who are working out, anticipating an opportunity to try out."
Hope also noted an open try-out will occur early next week, per school guidelines.
Camp highlights
Hope pointed toward leadership as a big highlight of training camp, noting all players have led by example and given outstanding effort.
"We've weathered some inconsistencies with the snaps and exchanges," Hope said. "It's been days since the ball has been on the ground. Days since we've had the ball come out from a fumble or snap."
Hope said the secondary has "come a million miles and I'm very pleased with that." He also noted the time and effort put into special teams play, as the team worked on "technique, alignments and assignments to make sure we had the right personnel in there in those areas."
Senior Day
After practice, the senior class enjoyed a tradition of being treated like royalty on the last day of training camp. Each senior was carried to the Boilermaker Special by underclassmen, who also had to carry their equipment back to the locker room. Meanwhile, the seniors enjoyed a ride around campus.
"They're riding around town, hoopin' and hollering, and having a good time," Hope said. "We certainly want to recognize them and they've stepped up as leaders. They all look forward to that day."
Hope said a depth chart will likely be released sometime in the next few days, but added a caveat, saying, "It will change over the course of the next couple of weeks. We'll compete all the way up until a couple days before game time.
No decisions on who may redshirt have been made, but Hope did note the team has three senior tight ends, making it likely that at least one underclassman at the position will redshirt.