Catching up with ... Ryan Russell
He is 6-5, 270 pounds. He is big, strong and powerful. He is a former NFL player. And Ryan Russell also is a published poet.
It's true. The former Boilermaker shatters the football player stereotype with a depth of introspection usually reserved for a professor in a tweed jacket. Check out his recently published book of poems: "Prison or Passion." For more on how to order the book and for more on Russell, check out this site.
Before making his mark as a writer, Russell made one as a defensive end at Purdue. He arrived in West Lafayette from Creekview High in Carrollton, Texas, near Dallas in 2011. And he made an instant impact his first season, notching 33 tackles with 4.5 TFLs and a sack. He finished his career with 149 stops, 24.5 TFLs and 9.5 sacks. Russell was a fifth-round pick of the Cowboys in 2015. He played one season in Dallas and two in Tampa before a shoulder injury derailed his career.
I caught up with Russell to look back at his Purdue career … and to see what he's up to now.
GoldandBlack: Where do you live?
Russell: I live in Silver Lake, Calif., which is near Hollywood.
GoldandBlack: What are you doing?
Russell: I am writing. My best friend who I roomed with and played with at Purdue, Joe Gilliam, passed away September 11, 2018. At the time, I was still recovering from shoulder surgery. I had this huge wake-up call. He was a perfectly healthy person, we trained together and essentially ate the same … we basically had the same life for four years. And, he was gone at 26. I was like, life isn't guaranteed, life is short. I visited LA each offseason since being in the NFL. Always loved it. I kept waiting for the perfect situation to move here. And then I knew I couldn't wait for the perfect situation. If that is the life you want to live, you need to start living it now.
GoldandBlack: What do you write?
Russell: I always have written, have since I was 8 or 9 when my stepfather passed away. I wrote poetry to understand what I was going through, understand my feelings, self reflect. I would see if I was angry, or sad, or jealous, or had envy. So, I moved to LA to deal with the loss of my best friend and the trauma of my injury. I also have written a fiction novel since I have been out here. Now, I have a published book of poetry.
GoldandBlack: How did you break in to the business?
Russell: A publisher and contemporary poet Christopher Poindexter saw my stuff on Instagram and reached out in December and asked if I was interested in publishing. One thing led to another. On April 26, my mom's birthday, I released my first poetry book. That was cool and awesome.
The buzz I got from that has made waves for me to get a publishing deal for my fiction novel. I am talking to publishers about that. There was talk of getting a literary agent to get more work. Now, I am pitching for articles. This crazy ball starts rolling in this literary world.
Story continues below photo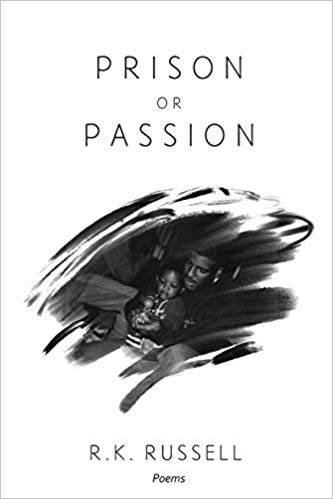 GoldandBlack: What is your fictional novel about?
Russell: It's a story of a young adult coming of age. The story I am interested in telling is of young men and their emotions. Men who maybe didn't have the good example of how to deal with their emotions, or like me who didn't have a male example in the house. I wanna talk about young men in love, their emotions, mental health, depression and how they affect men. And I want men to talk about them. I have three big things: 1. impoverished youth/single-parent homes. 2. Redefining masculinity; 3. And I am big on mental health. We all battle with depression and anxiety. You will have enough opponents in the world, you don't need to battle yourself. You need to be teammates with your mind.
GoldandBlack: How did you end up at Purdue?
Russell: I didn't know where Purdue was before they recruited me. It wasn't on my radar of the world. But I knew about Drew Brees, like all kids in Texas do. I told my mom about Purdue, and she was excited about the education. She said if you say "Purdue" in a job interview, people will know you didn't just go to school for football. You studied. That combination of things was like the perfect storm. I was willing to move far away from home to get this great opportunity.
GoldandBlack: What are your best Purdue memories?
Russell: All of the big victories stand out. The feeling of beating Ohio State, Bruce Gaston blocking that final kick to win it. I will never forget that. I will never forget anytime I got to raise the Old Oaken Bucket. Illinois coming in undefeated and us giving them a smack down. Those are some of the big football moments I remember.
But I also remember the friendships and teammates I had. Me and Kawann Short are still very close. Even though I never played with Ryan Kerrigan, we are close. Ricardo Allen is one of my best friends. I was in his wedding. I introduced Joe Gilliam to his wife, and he has now passed on. I was best man in that wedding. It's a brotherhood I have formed.
GoldandBlack: How was your NFL career?
Russell: I got drafted by the Cowboys, the team I grew up watching. The first NFL game I ever went to was Cowboys vs. Eagles. Everything I knew about the NFL and had dreamed about was about the Dallas Cowboys. That was amazing. Getting that phone call from Jerry Jones and hearing that thick, southern accent. And having him want me … it was surreal. There's Jason Witten, Dez Bryant. I am in the same locker room as Tony Romo. I was like: These are the guys. There are the dudes.
GoldandBlack: What did you learn?
Russell: It's definitely a business. It made me more mindful that I was CEO of my own business. And your product is your body. When you look at it that way, it's easier. You are either advancing your business, your brand and your product. Or, you hurt it. There is no staying the same. And as in any business, a lot of it is timing. You learn how to be your own business. And it's something you can apply anywhere. Now, I wake up and write. That's easy. I was waking up at 6 am and lifting and hitting grown men.
GoldandBlack: You are only 27. Any chance you could play again?
Russell: The recovery (from shoulder surgery) has been long. I got cleared a while back. Technically, I am still a free agent. I have not officially retired. My agent Drew Rosenhaus is still optimistic that I probably could get on a team for training camp. That is still where my heart is. I have been training. But I also have been doing my other love, writing. We will see how football goes. The door isn't all the way shut.