Commit tears ACL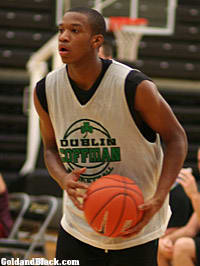 In his Team Detroit squad's first game of the Best of Summer tournament, the 6-foot-1 guard from Dublin Coffman High School in Ohio went down with an injury all too familiar to those who follow Purdue basketball.
Molock will have surgery Wednesday morning at Ohio State.
"Kyle's in good spirits," Molock's father, Karl, said. "He's a tough kid. He's already talking about rehabbing, so he's looking forward to getting (surgery) over with so he can get going with rehab.
"He was just driving to the basket and said he was pushed from behind. He lost his balance and just kind of landed in a certain way and the knee buckled and popped. He knew something was wrong right away."
Karl Molock said his son's high school coach, Jamey Collins, has been in constant communication with Purdue coaches Matt Painter and Paul Lusk since the injury.
"We've gotten some great advice," he said.