Details of Jeff Brohm's new seven-year, $36.8 million contract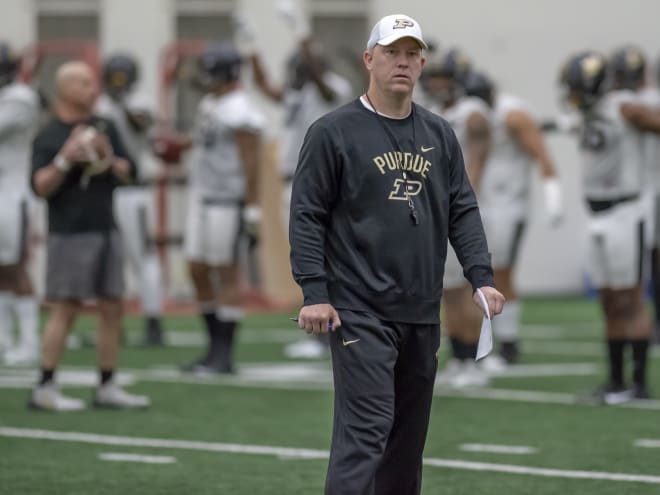 MORE: Board of Trustees approves Brohm contract
Jeff Brohm will be paid handsomely to lead Purdue.
The Board of Trustees met today, approving a new seven-year, $36.8 million contract for Brohm, who has coached just two seasons at Purdue.
According to published reports, Brohm's salary next season will be $5.35 million; he will make $5.5 million in 2020. His salary will drop to $4.9 million in 2021 but jump $200,000 in 2022, and then by $100,000 the rest of the contract.

The total value of the contract--which runs until 2025--includes supplemental income, base salary, retention bonuses and a signing bonus.
The contract includes retention bonuses and a $1.7 million signing bonus that will be paid to Brohm in two payments over the next two years.
Brohm isn't the only one who received a pay hike. His assistants also received a bump. The pool of money Brohm has available to pay assistants is now $4.35 million. That is $380,000 more than in 2018 and an increase of $850,000 from 2017.
A look at the pay for assistants:
• Nick Holt, co-defensive coordinator/linebackers: from $620,000 to $645,000. He also will receive a one-time retention bonus of $25,000.
• Anthony Poindexter, co-defensive coordinator/safeties: from $450,000 to $460,000.
• Brian Brohm, co-offensive coordinator/quarterbacks: from $425,000 to $430,000.
• JaMarcus Shephard, co-offensive coordinator/receivers: from $415,000 to $425,000.
• Reggie Johnson, defensive line: from $240,000 to $250,000.
• Dale Williams, offensive line: from $240,000 to $250,000.
• Chris Barclay, running backs: from $230,000 to $250,000.
• Kevin Wolthausen, special teams/defensive ends: from $225,000 to $235,000.
• Greg Brohm, executive director of football administration and operations/chief of staff: from $235,000 to $245,000.
Cornerbacks coach Greg Brown was hired in February to replace Derrick Jackson--who left to be the defensive coordinator at Northern Illinois--and is paid $410,000.
Purdue has an opening for tight ends/special teams coach after Mark Tommerdahl left for Texas Tech in February. He was slated to make $340,000 in 2019.