Exit Interview: Purdue LB Jaylan Alexander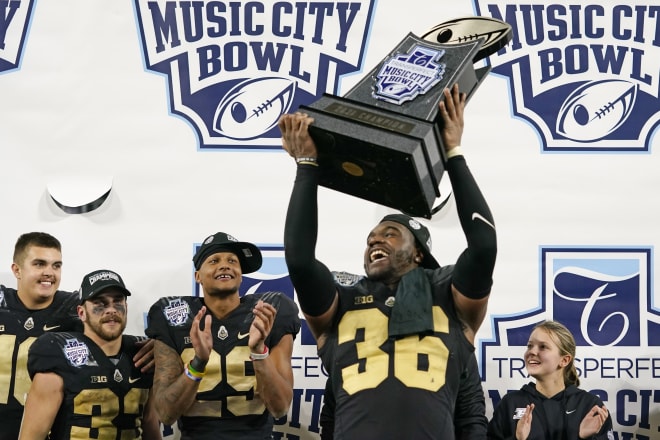 Nineteen tackles.
That's how many stops--a career-high--Jaylan Alexander made in Purdue's 48-45 OT Music City Bowl win vs. Tennessee. It was a sensational ending to his Boilermaker career.
"I couldn't have asked for much more," he said.
Alexander capped his Purdue career by earning consensus honorable mention All-Big Ten accolades after he led the Boilermakers with 113 tackles, which ranked fourth in the league. Alexander finished his career with 227 tackles. On top of all that, he also earned his degree in December.
Now, Alexander is ready to turn the page to his next chapter: Chasing an NFL career. He has signed with Jimmy Gould of Management One agency and will begin training in Baton Rouge, La.
GoldandBlack.com visited with Alexander for an Exit Interview.

GoldandBlack.com: What was the highlight of your career?
Alexander: I would just say my whole career. It was a life-changing experience, on the field and off the field. I have learned a lot. I grew up. I really found myself, I really grew into somebody I have always wanted to be. Still growing. On the field, for us to come back our senior year and win the bowl. And the way we won it, it is crazy. We rewrote our own story. My whole career was an eye-opening experience and it was amazing.
GoldandBlack.com: You had a team-high 19 tackles (10 solo) in the Music City Bowl. Was that your best game as a Boilermaker?
Alexander: I would definitely say is one of my top performances. I think that game was probably the first game I could really say I was comfortable out there. I wasn't thinking too much. And I was just playing football and I was just realizing, like, OK, this is my last game as Boilermaker. I would say definitely one of my top two performances.
GoldandBlack.com: Who influenced you the most during your time in West Lafayette?
Alexander: Coach T.J. McCollum and Coach (Domenic) Reno. I would say those two. They really believed in me and pushed me. So, having T.J. around, he really pushed me and really took me under his wing. He was kind of like my big brother in a way, but he was also a coach. So, I always had that respect for him as a coach."
Reno really has been looking out for me ever since I stepped foot here. He's been my strength coach since I was 18. So, having those guys around, they really believed in me. Coach (Jeff) Brohm, too. Coach Brohm has always been there for me. He's always looked out for me. I was under three different defensive coordinators. So, just having Coach Brohm, T.J. and Reno, Shep (JaMarcus Shephard), just having those guys around, really pushed me. At a young age, they saw what I could be, and I think I exceeded that and really showed them what I could be as a senior."
GoldandBlack.com: How does the linebacking unit look for 2022?
Alexander: Definitely a lot of young talent. I think OC Brothers, Clyde Washington, (Jacob) Wahlberg. Wahly, that's my boy. All of them will be nice. KD (Kieren Douglas) is coming back, Jalen Graham, all of them guys. They will do things. Who needs to step up? I would say Clyde and Wahly because I feel like they get it and understand it. They just need to believe in themselves, go for it and stop thinking too much. J Graham is about to be the best LB in the country. And I tell him to handle your business, you can be the best linebacker in the country because I see it. KD has grown. What happened and seeing what he did, I am really proud of him because he came here as a walk-on, not playing much. The whole room is gonna up their game and have a nice season next year.

GoldandBlack.com: What's next for you?
Alexander: I am gonna chase my dream in the NFL. I really think it's my time. Derrick (Barnes) had his. Markus (Bailey) had his. I watched those guys grow. I watched those guys develop, seeing what they're doing now. I was at the Cincinnati Bengals game (vs. the Chiefs) watching Markus. That was my first NFL game ever. Seeing my big brother doing things that I'm dreaming of. Seeing him do that and I'm about to go through this process. It's really crazy. I want to be like those guys. That's how it was when I was younger. I'm gonna chase my dreams and I'm gonna use what I learned from them and really take off with this process.
GoldandBlack.com: Where will you train?
Alexander: Yeah, I'm going down to Baton Rouge, La., at Traction Sports Performance working with (former NFL player) Ryan Clark, focusing on my speed and lateral movements. I think I got it football-wise. I'm a real football savvy guy. So, I think when I sit down with the NFL coaches and scouts, they arereally go love the type of person I am. I need to take care of business when it comes to the 40 time and show I am fast. I am versatile, too. This will be the best training I've had. I've never really had trainers. Always really trained myself, really pushed myself. I think it's gonna be the best training, the best time I've ever had. I'm ready to work.