Game Preview - #1 Purdue vs Iowa
#1 Purdue and the #1 ranked offense will take on a surging Iowa team and the #2 offense in the country.
The Boilermakers held onto the #1 ranking despite losing at IU on Saturday, and will now try to avenge that loss with a win against the #2 offense in the country according to Kenpom, the Iowa Hawkeyes.

The Hawkeyes are surging, winners of three straight, and are playing the best basketball of their season. They've won three straight games at home against Rutgers, Northwestern, and Illinois. They will now have to travel for back to back games. First, a visit to Mackey Arena to take on the best team in the Big Ten, Purdue, and then up to Minnesota where they will take on the Big Ten's worst team on Sunday.

Purdue is coming off a disappointing loss to their rivals in Bloomington. It was their second straight loss in Assembly Hall after winning 9 straight against the Hoosiers before last year's loss at IU. It is just Purdue's second loss of the season.

This will be the only matchup between these two teams in the regular season. Purdue won both regular season matchups last year before losing to Iowa in the Big Ten Tournament Title Game.

Zach Edey remains the favorite to win National Player of the Year and Big Ten Player of the Year.

In a normal year, Kris Murray would be getting plenty of buzz as a potential player of the year. The Iowa star and brother to Keegan Murray, had something of a coming out party last year in Iowa's first game against Purdue when he scored a then career-high 23 points. Turns out, that game was foreshadowing of what Murray was capable of.

Murray is averaging over 20 points a game in his Junior season.

While Iowa and Purdue have the same offensive rating at the top of Kenpom's rating system for offenses, they could not be more different in style. Purdue wants to play in the half court and has the 331rd fastest adjusted tempo in the country. Iowa wants to run and get out into space, and averages the 16th lowest average possession length.

Offensive dichotomy will reign supreme when Iowa's fast paced offense meets Zach Edey and Purdue's methodical half court sets.

Hawkeyes Starting Five
| | PPG | RPG | APG | 2FGM-A | 3FGM-A |
| --- | --- | --- | --- | --- | --- |
| 6-3 | 190 lbs. | 6.6 | 1.9 | 2.4 | 39-85 (.459) | 16-49 (.327) |
| 6-4 | 205 lbs. | 11.6 | 3.6 | 2.5 | 73-165 (.442) | 14-45 (.311) |
| 6-6 | 215 lbs. | 7.5 | 3.4 | 2.9 | 19-33 (.576) | 30-82 (.366) |
| 6-8 | 220 lbs. | 20.5 | 8.5 | 1.8 | 100-162 (.617) | 43-123 (.350) |
| 6-9 | 230 lbs. | 13.9 | 8.2 | 2.1 | 117-205 (.571) | 2-5 (.400) |
Fran on Purdue
Fran McCaffery is no stranger to Mackey Arena at this point.

Recently, that familiarity has not been kind to McCaffery. Purdue has won the last four games against Iowa at Mackey Arena by a combined 81 points. He knows it won't get much easier this year, taking on the #1 team in the nation.

"They're not a mistake team. They defend," he said on Tuesday ahead of traveling to West Lafayette. "They're a very connected group. You can see it. You've got two freshman guards that are playing very well and you've got some veterans off the bench accepting their roles and excelling in their roles."

This touches on what Tom Izzo says is the most impressive part of Coach Painter's job this season, getting his players to buy into their roles.

Of course, it all stops and ends with the big man inside for Purdue.

"He's become much better at playing in traffic," McCaffery said about how Edey has evolved from the first time that he faced him.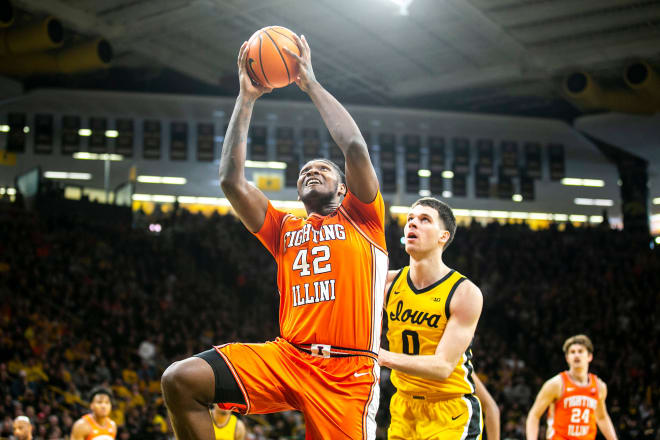 Freudian Rebound
Iowa has leaned on their lone big man, Filip Rebraca to take an expanded role in the offense and anchor the defense. The senior is playing ten minutes more this season than last, and his efficiency and play has improved at every level after seeing his minutes cut his junior year.

Rebraca is at something of a physical disadvantage against the 7-4 Zach Edey. Stop if you've heard that before.

The undersized center has been crucial to Iowa's success, and played all but one minute the Hawkeyes two-point win against Illinois on Saturday.

He moves will on the court and could have the quickness advantage against Edey, but a potential Freudian slip on camera underlies what might be the Hawkeyes biggest disadvantage against Purdue.

"Then also just running him," Rebraca said about how he could use Edey's size against him. Then he moved onto saying this, "If we get a board - I mean, when, not if."

While that's clearly a slip of the tongue, Edey has out rebounded a Big Ten team at home all on his own this season when he went for 22 rebounds against Minnesota. Minnesota gives up 31% of defensive rebound chances to the offense. Iowa is at 29%.

Edey is grabbing nearly 23% of the Purdue misses when he's on the floor. He's the best offensive rebounder in the country and Purdue is the best offensive rebounding team in the country. They're grabbing 38.7% of their misses and are the 15th best defensive rebounding team.
Painter on Iowa
"They really put you in binds with the way they can attack you in transition with all that skill," Matt Painter said on Wednesday, a day before #1 Purdue hosts an Iowa team on a three-game win streak.

Both Purdue and Iowa are efficient offenses, the most efficient offenses in the country according to KenPom, but the teams go about it in different ways. Purdue likes to be methodical, probing defenses, and running clever sets to get their star Zach Edey as many clean looks in the post as possible. The difference between the two teams this season has been Purdue has been able to defend while Iowa has shown a lack of interest or execution on that side of the ball at times this season.

That said, Purdue just had their worst defensive performance of the season. In particular, they gave up 50 first half points to Indiana after not giving up more than 70 points in a whole game prior to. Purdue will have to be better at home to slow down a high-powered and fast-running Iowa offense.

"You've gotta be ready to score the basketball because you know they are," Matt Painter said. "And that's our goal. Our goal is to slow them down. I don't know if you can ultimately stop them. You've gotta be able to slow them down and not let them steal points."

That was something Purdue did too frequently in IU by turning the ball over 11 times in the first half, igniting IU's offense with fast break points.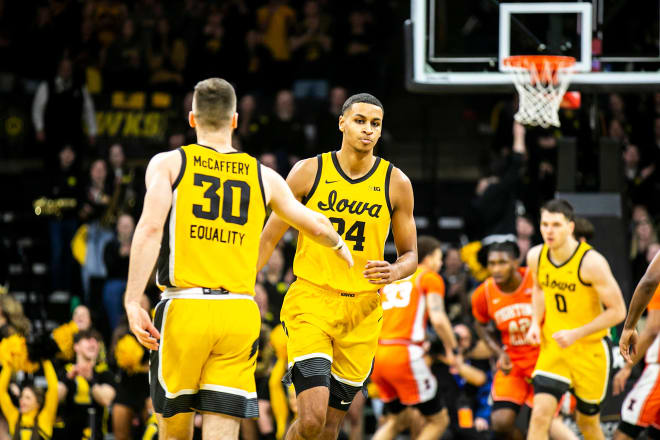 Kris Murray
He's not his brother, but Kris Murray has taken the role of Iowa's best player vacated by Keegan Murray going to the NBA and been just as impressive as Iowa's lead scorer. Before Kris Murray was this good for a full season, he was this good against Purdue. Kris had a season-high last year against Purdue, scoring 23 points in 24 minutes.

"Locking in on not just on them individually but the kind of actions they run as a team," Caleb Furst told me Wednesday on his team's focus to limit Kris Murray and his impact on the game on the heels of drawing the tough assignment of trying to stop Trayce Jackson-Davis.
"It's the kind of speed they play at," Furst continued about what makes Iowa's defense as a whole difficult to defend.

Kris's versatility might be his most advantageous skill with Iowa having just one traditional big, Murray is a possible candidate to slide down and play at the five. While the disadvantage against Edey is obvious, it could also force Matt Painter into tricky defensive assignments at the other end.

"We normally just put him on the guy we feel is less likely to hurt us but there's still a downside to it. Just like there's an upside at the other end of the court," Matt Painter said about matching Edey against smaller lineups. "It's like playing cards, you've got to flip the deck [in your favor.]"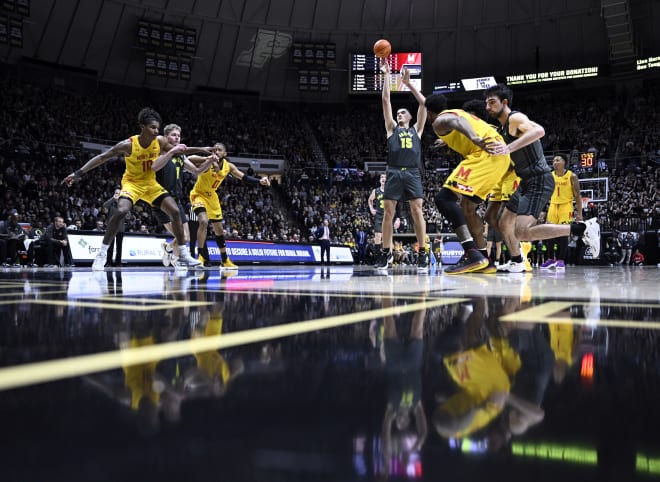 Not So Free Throws

This game might be a quick one.

Purdue and Iowa share great offense, but also they're too of the least foul-prone teams in the nation. Purdue gives up the fewest amount of free throw attempts compared to field goal shots attempted against them. Iowa is the third best at keeping players off the free throw line.

Both offenses have been good but not great at getting to the line, but potential free throw edges are obvious. Zach Edey is the best post player in the country who will have 7 inches on his primary defender.

He's drawing 6.7 fouls per 40 minutes, the 23rd best rate in the country.

For Iowa, Filip Rebraca draws 5.1 fouls per 40 minutes on his end and Tony Perkins is coming off a 16 free throw attempt game where he hit 15 of them against Illinois.