Purdue adds a potentially significant piece to next season's roster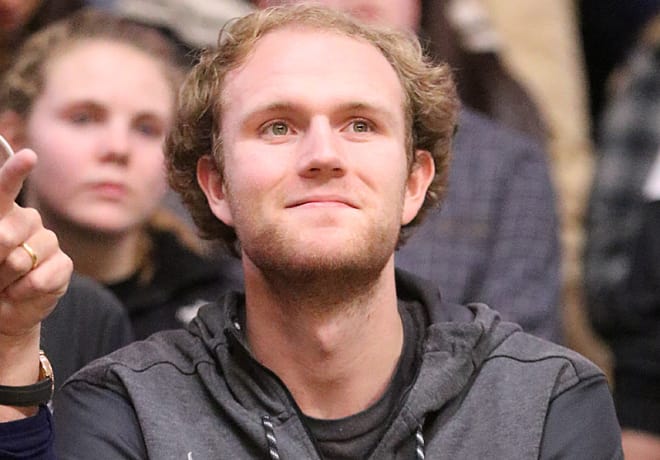 Analysis ($): What Boudreaux's addition means for Purdue
Months after committing to Xavier and about a day after re-opening his recruiting, Dartmouth graduate transfer Evan Boudreaux committed to Purdue Thursday.
"I knew what I wanted," Boudreaux said Thursday afternoon. "I didn't want to take a bunch of visits and lead a bunch of people on."
The 6-foot-8, 220-pound forward will have two seasons worth of eligibility at Purdue after playing two at Dartmouth, then graduating this year with two seasons left to play elsewhere.
He cited a long-standing relationship with Purdue coaches Matt Painter and Greg Gary — they did recruit him out of high school, too, and hosted him on at least one visit — and a need at his position next season as reasons he chose Purdue.
But, it came down to one factor more than any other.
"First and foremost, it was about winning," Boudreaux said. "Getting the chance to play in the NCAA Tournament was a big part of why I left Dartmouth in the first place."
The Lake Forest (Ill.) High School product led the Ivy League in scoring and rebounding as a sophomore, averaging 17-and-a-half points and nine-and-a-half rebounds.
As a freshman, he was Ivy League Freshman-of-the-Year after averaging 17.7 points and 9.4 rebounds.
Boudreaux visited Purdue early in the season after opting to pursue a grad transfer, but soon after committed to Xavier over the Boilermakers and Colorado.
Musketeer coach Chris Mack's move to Louisville prompted him to re-open things.
Mack targeted Boudreaux for Louisville soon after taking over. Among other immediate offers that came in, per Boudreaux: Illinois, Wisconsin, Butler and N.C. State.
"It's been a whirlwind," he said.
Continue reading below

At Purdue, it's hoped he can help fill the void at forward left by departing senior Vincent Edwards, this addition addressing one of the Boilermakers' most pressing personnel needs, and providing them a player that should check a few boxes on the program's typical wish list.
Boudreaux has always been known for his effort, a legitimately Brian Cardinal-ish sort of affinity for physicality and time spent on the floor.
From a skill perspective — something that's been a common denominator at the 4 among Purdue's best teams under Painter — Boudreaux is a proven outside shooter, for one thing. He made 35 percent of his threes as a sophomore at Dartmouth and 40.6 percent as a freshman.
Boudreaux will join a Purdue frontcourt in transition, following the departures of Vincent Edwards and center Isaac Haas primarily.
Matt Haarms will move into Haas' spot at the 5, but the 4 is wide open, with returnee Grady Eifert there to vie for minutes, and maybe redshirt freshman Aaron Wheeler, as well, if the 4 turns out to be his short-term spot.
"I think there's a really good opportunity for me to come in and contribute," Boudreaux said, "and I'd expect our expectations to be high. I think there's a real shot to not only make the NCAA Tournament but be successful while we're there and that's a really big deal to me."