Kerwin Walton's one of Purdue's top perimeter targets for 2020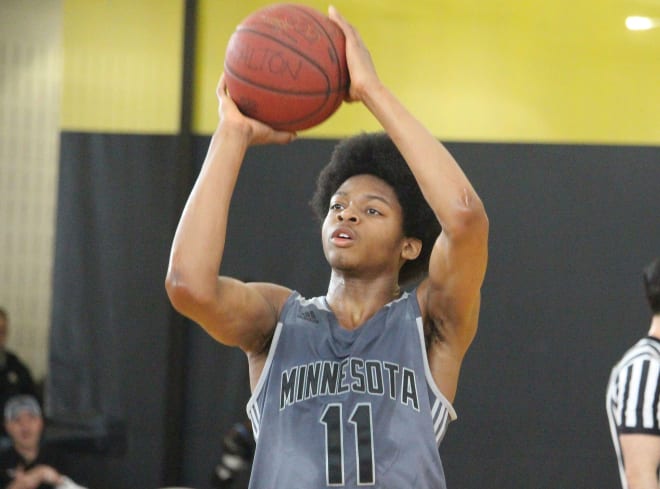 INDIANAPOLIS — Years ago, Matt Painter laid down a mandate to recruit at least one high-level shooter in every recruiting class, and the results of that emphasis have been significant ever since.
For the 2020 recruiting class, there will be multiple targets to fill that category, but at least one priority is clearly established: The Minneapolis area's Kerwin Walton.
The Rivals.com four-star wing from Twin Cities powerhouse Hopkins High School is known as one of the better shooters in his class, but hoping this spring to prove himself as much more.
"I want to show people I can do a little bit of everything — pass, shoot, dribble and guard, especially that," Hopkins said Saturday at this past weekend's adidas Gauntlet Midwest qualifier at Warren Central. "I take a lot of pride in defense, in getting deflections and steals, the defensive boards. Part of my goal is to try to show people I can be a great defender too."
That sort of approach in mind, it's no surprise Purdue has prioritized Walton as it has, while like-minded programs such as Virginia and Butler are among those interested, as are Indiana and Nebraska, among others.
Walton cited Purdue, near-by Minnesota and Baylor as three schools showing the most interest at the moment, though he also holds offers from Creighton, Kansas State and others.
Purdue coach Matt Painter and Minnesota's Richard Pitino are expected to make in-person visits to meet with Walton in the weeks to come, he said.
Continue reading below
Walton made junior-year official visits to Baylor and Purdue, visiting West Lafayette for the Boilermakers' win over Indiana in January.
"They fit my playing style," he said. "They like to shoot threes and they've got some solid bigs. They like to defend and move the ball, and I like how they've used their guards, shooting off the run. They've been a good three-point shooting team."
The 6-foot-5 Walton is just that himself, considered an outstanding jump-shooter. He averaged roughly 17 points for Hopkins, playing alongside McDonald's All-American Zeke Nnaji, who Purdue pursued heavily for the 2019 class. When Hopkins beat Lakeville North for the state's 4A title, Walton scored a team-best 17.
The product of a premier high school program and highly successful grassroots program, Walton's won a lot during his high school career to this point.
"I think it shows I know how to battle through adversity and that I want to help lead this team to where we want to be," Walton said of his upcoming spring and summer with the D1 Minnesota program. "I think I know more about what it takes to get there and win it all, and that's my main focus."