Looking Ahead: Purdue Quarterbacks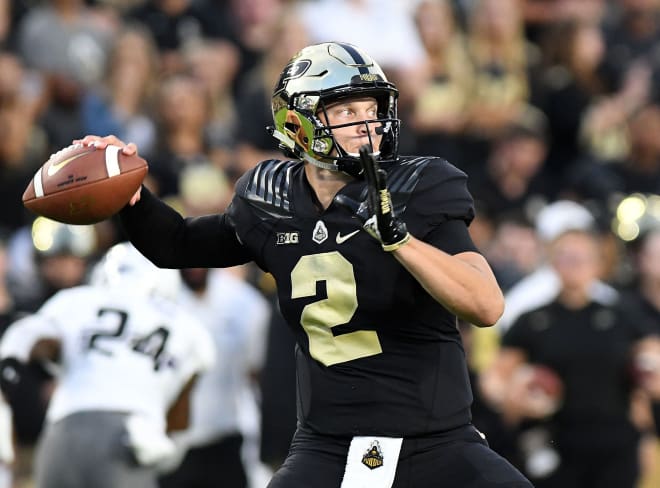 With 2018 in the rear view mirror, Purdue has its eyes cast toward next fall. And the work begins in spring football for a program coming off a 6-7 record.
As Year 3 of the Jeff Brohm Era is dawning, the program is coming into maturity. And it's ahead of schedule with an aggregate 13-13 mark the last two years. For perspective, Purdue won nine games total the four seasons pre-Brohm. Few could have envisioned the Boilermakers going to bowls each of Brohm's first two seasons. Now, Purdue looks to push the bar higher.
This is the first in a series of positional analyses in anticipation of spring drills. (No dates have been set for spring drills yet, according to the school.)
First up: Quarterbacks.
WHAT WE KNOW
Jeff Brohm didn't inherit a wealth of talent overall when he arrived in West Lafayette. But he did walk into a nice situation at quarterback. Brohm benefited big-time from having veterans in David Blough and Elijah Sindelar on campus at this critical position as he worked to flip the script in West Lafayette.

Now, Blough is gone after a strong senior season that saw him start the last 12 games and earn third-team All-Big Ten honors from the media and honorable mention from the coaches after he completed 66 percent of his passes for 3,705 yards with 25 TDs and 10 picks. Those numbers are even more impressive when you consider Blough was coming off a gruesome ankle injury that ended his 2017 season in November.
Blough leaves campus having made 37 career starts, ranking No. 3 in Purdue history in attempts (1,429), completions (871) and TD tosses (69), while finishing No. 5 in pass yards (9,734). Not bad for a 6-1 signal-caller few big-time programs had interest in coming out of high school in Carrollton, Texas, back in 2014.
Blough also will leave as a beloved figure for how he conducted himself off the field, becoming the face of the program last season when he forged a bond with Purdue super fan Tyler Trent. Blough doesn't belong in the pantheon of Purdue QB greats, but he was a good player, and a special person. His leadership and example will be missed. But he never was viewed as an ideal "fit" for the Brohm attack, which favors a tall signal-caller with a big arm. In fact, as we all recall, Blough lost a high-profile 2018 training camp battle with Sindelar for the starting job.
Sindelar appears to be the clear No. 1 in 2019. But the fifth-year senior figures to be handled with care this spring as he continues to round into form after knee surgery following the 2017 season, when he played the last three-and-a-half games with a torn ACL in his left knee. The 6-4, 225-pound Sindelar has made nine career starts—he was the Game 1 starter each of the last two years — and checks all the boxes when it comes to the Brohm quarterback profile. According to reports, he was throwing the ball very well during bowl practices. But — again — Sindelar's left knee still can be cranky. Is he OK?
After the Kentucky native beat out Blough in camp to begin 2018 as the starter, he got the hook after tossing three first-half interceptions in a season-opening loss at home to Northwestern. Sindelar played in relief of Blough the next game vs. Eastern Michigan. And that was it, as Sindelar sustained an injury the next week in practice prepping for Missouri and never played again in 2018. He threw just 44 passes for 283 yards with two TDs and three picks last season after hitting 187-of-329 passes for 2,099 yards with 18 TDs and seven picks in 2017.
WHAT WE DON'T KNOW
The backup situation behind Sindelar — who could petition for a sixth year of eligibility in 2020 — is fluid. The staff has stacked the position with some promising talent led by Jack Plummer, who is one to watch and perhaps the future of the position. Brohm hasn't been shy about gushing about the potential of the 6-5, 215-pound Arizona native, who travelled with the team while redshirting as a freshman in 2018.
Sophomore Nick Sipe was inherited from the past staff, but signed as part of Brohm's first recruiting class in February 2017. The 6-4, 215-pound Californian was the only other QB to take a snap last fall, seeing mop-up duty at Illinois and at Minnesota and completing one pass for three yards.
Don't sleep on walk-on Aidan O'Connell. The staff likes the potential of the 6-3, 205-pound sophomore.

The staff will get a sneak peek at incoming 6-5, 210-pound freshman Paul Piferi, who is enrolled early. The strapping Piferi hails from the same high school in Villa Park, Calif., as Sipe. Piferi — an accomplished piano player — drips with potential.
NAMES TO KNOW
1. Elijah Sindelar, fifth-year senior*
2. Jack Plummer, redshirt freshman
3. Nick Sipe, redshirt sophomore
4. Aidan O'Connell, sophomore

5. Paul Piferi, true freshman (early enrollee)
* Sindelar intends to pursue a waiver at the back end of his career that would allow him to return in 2020.