Marcius gets a chance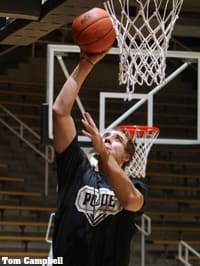 After essentially losing his freshman season to an injury that led to him redshirting, Boilermaker big man
Sandi Marcius
will finally get to play.
Marcius will be part of a group of United States players going overseas next week as part of an exhibition team, put together by Athletes In Action, the Christian sports organization that has been putting together teams like this and organizing such tours for three decades now.
This particular team will be coached by Kent Williams, an assistant coach at Missouri State under Cuonzo Martin and previously Matt Painter's supervisor of basketball operations at Purdue. Williams played on an AIA tour in 2002, when he was a player at Southern Illinois, where Bruce Weber and Matt Painter coached together at the time.
The team from the U.S. will be in Kastowice, Poland, from May 29 to June 7, in which time it will be play four exhibition games, one of them being a "practice" game without spectators.
After three practices, the AIA team will play three games in four days; on its day off, it will visit Auschwitz.
Marcius will be part of a roster that'll also include Illinois'
Joseph Bertrand
, Indiana State's
R.J. Mahurin
, Missouri States
Kyle Weems
and players from Wichita State, Baylor, Utah State and Colorado.
After sitting out his freshman season at Purdue, Marcius is going to play for AIA.
"I'm going to put him out there," Williams joked, "so he better be able to do some things for me."
The team will have only about four practices before having to go against established local professional teams.
"It won't be easy," Williams said, "but the thing you tell these guys is that if they're ever going to have a chance to play in the NBA or in Europe, you're going to have to learn quick."
The American team, which will be joined by a couple of Polish players, was originally slated to play the Polish National Team, but that game fell through. Not that playing pro teams would be enough of a challenge.
"They should be good games," Williams said. "... It should be pretty fair competition."
AIA has been organizing such exhibition tours since 1980, program director Mike Sigfrid said.
"We utilize different sports in an international sports exchange," Sigrid said of AIA, which has been in existence since 1966, "and having the players like the ones who'll be with this team experience a different culture and see something they've probably never seen before.
"The other of it is that since we're a Christian sports organization, we're interested in the spiritual lives of the kids who come with us, so part of the tours is including daily time where we have a chance to examine our faith. ... Most of our kids already have a foundation in their faith and that's the reason they want to go with us in the first place."
GoldandBlack.com will have coverage of the tour once it begins.
Copyright, Boilers, Inc. 2010. All Rights Reserved. Reproducing or using editorial or graphical content, in whole or in part, without permission, is strictly prohibited.
E-mail GoldandBlack.com/Boilers, Inc.