One spot filled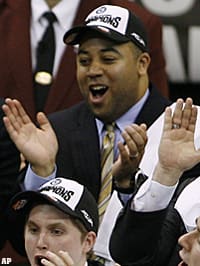 Purdue coach Matt Painter will hire Butler assistant coach Micah Shrewsberry this week to fill one of the two openings on his Boilermaker staff, GoldandBlack.com has learned.
Shrewsberry, 34, spent the past four seasons on Butler's staff, first serving a one-year stint as coordinator of basketball operations, then three seasons as an assistant coach. The Bulldogs, as you may have heard, reached the national championship game the past two years.
During Shrewsberry's three seasons on the Butler coaching staff, the Bulldogs were 87-21, winning a pair of Horizon League regular season titles and a pair of conference tournament crowns in that span.
Prior to coming to Butler, Shrewsberry was the head coach at IU-South Bend for two seasons, serving as the program's first-ever full-time coach. Prior to that, he was director of basketball operations at Marshall from 2003-05; an assistant coach at DePauw from 2001-03; and an assistant at Wabash from 2000-01. His first college coaching post came as a G.A. at the University of Indianapolis.
The Indianapolis native and Cathedral High School graduate played at Hanover College.
Following the season, two spots on Painter's staff came open, the first created by associate head coach Paul Lusk getting the head coaching job at Missouri State, the second by the resignation of suspended first-year assistant Mike Jackson.
Last week, IPFW head coach Dane Fife withdrew from consideration to be hired for the other opening.
Click
Here
to view this Link.
Copyright, Boilers, Inc. 2011. All Rights Reserved. Reproducing or using editorial or graphical content, in whole or in part, without permission, is strictly prohibited.
E-mail GoldandBlack.com/Boilers, Inc.