Opponent View: Missouri
After getting into a 0-2 hole to this 2018 season, Purdue is looking to pull off a home upset against an undefeated Missouri team with a high-powered offense.
GoldandBlack.com reached out to PowerMizzou.com publisher Gabe DeArmond to get the perspective of the Missouri program. DeArmond gives us his thoughts on quarterback Drew Lock, Missouri's ability to throw the deep ball and why this is arguably the Tigers most important game of the 2018 season.
GoldandBlack.com: This seems like a big game for Missouri and a great matchup for the Tigers with the offensive firepower they have.
DeArmond: "They've done what they should have done through the first two weeks. The opener with Tennessee-Martin, an FCS team, was over by halftime and that's what you would expect. Wyoming comes in without its starting running back and replacing Josh Allen at quarterback, but returning eight starters on defense from last year. That game was over in the middle of the third quarter. Drew Lock sat the last seven or eight minutes of the Wyoming game and that's the exact way Barry Odom would've drawn this up two weeks or two months ago. This defense has looked improved but honestly hasn't been tested either. It will probably get its best and maybe even first test in West Lafayette."
GoldandBlack.com: What's been the impact of new offensive coordinator Derek Dooley?
DeArmond: "I think the idea that this offense was going to look drastically different was overstated in the offseason. The tempo is a little slower and maybe it looks more traditional but coming in here and telling Drew Lock to not throw the deep ball as much would've been like a pitching coach telling Roger Clemens to ditch the fastball and rely on your breaking and off-speed stuff. Emanuel Hall is one of the better deep threats at receiver in the country and so they're going to take advantage of this. The passing game is at a point where I'm not sure how Lock could've been better in the first the first two games of this season. He's played as well as anybody in the country with the caveat that he hasn't faced a great team to date. Yet, Wyoming's strength coming in to Missouri was its great defense."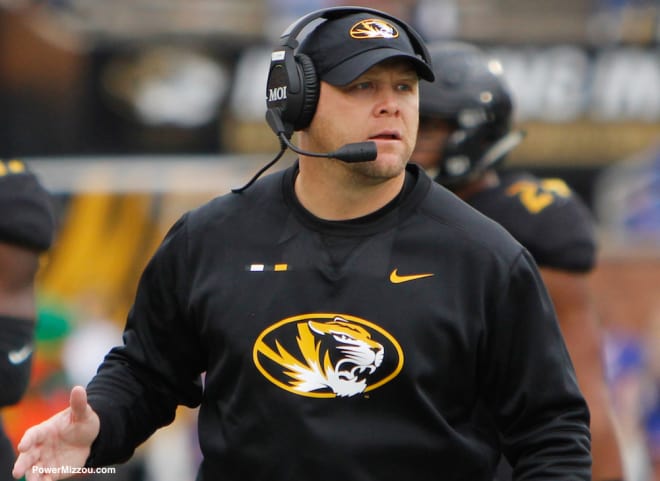 GoldandBlack.com: Why did Lock come back for his senior season instead of leaving early for the NFL Draft?
DeArmond: "He came back for a couple of reasons. First, he was told to come back because the NFL evaluators told him he wasn't ready. During the process, (the NFL evaluators) give you a first-round grade, second-round grade or a stay-in-school grade. Lock got a stay-in-school grade. Lock and (defensive tackle) Terry Beckner Jr., both feel like they have unfinished business here at Missouri. Lock is a third generation player at Missouri. It's more important to him than maybe others about what kind of legacy you leave.. Right now Drew's legacy is the guy who put up ridiculous numbers but (only has managed) a trip to the Texas Bowl. The NFL also told him that there are things he can improve on to show more of a skill set because (past coordinator and current UCF coach) Josh Heupel's offense didn't translate to the NFL in any way, shape or form. So he needed to show he can make intermediate and contested throws in the pocket. Missouri is touting him for the Heisman Trophy, which I think is a little bit of a stretch but will require a win over Alabama or Georgia (to be in the hunt). If you're asking what do I think will happen in April? I think he'll be the first quarterback off the board and I realize (other national level quarterbacks) Jarrett Stidham (Auburn), Will Grier (West Virginia) and Justin Herbert (Oregon) will have something to say about that but I think Drew has everything the NFL is looking for."
GoldandBlack.com: What's gotten into (receiver) Emanuel Hall and why has he had a breakout first two games?
DeArmond: "Two things. One, J'Mon Moore is now on the Green Bay Packers and you're talking about a back-to-back 1,000-yard receiver leaving your program and somebody needed to replace that production. Two, and to put it bluntly, Emanuel needed to learn how to catch the ball consistently. He was not a starter in the Purdue game last year and actually ended up getting hurt in that game. He didn't play much at all if I can remember (no catches vs. Purdue or Auburn the following week). Last year, he was able to burn people all year long, but I bet he dropped at least four touchdown passes. He has, at least through two weeks, figured that out and it continues to amaze me how many defenses continue to play one high safety on him. Hall has continually proven he can run by people and opponents just let him continue to run by them. It's crazy that nobody has adjusted to force Missouri to at least beat them nine yards at a time instead of 60 yards at a time."
GoldandBlack.com: Barry Odom has made improving his defense an emphasis. What signs have you seen that Missouri might be turning a corner in that regard?
DeArmond: "You're cautiously optimistic (if you are a Tigers fan). Last year in the season opener they gave up 35 points by halftime to Missouri State and 43 for the game and you just knew there was problems from the start. They actually fired the defensive coordinator the week before the Purdue game and it obviously worked wonders based on that game's result. (Purdue scored the first three times it had the ball last year) They played better on defense in the second half of the season and even in the Texas Bowl loss. The fact is that they haven't played anybody yet (in 2018). UT-Martin made one play on them and I was shocked Wyoming did nothing that would concern you on offense. The numbers are better, but they haven't faced Rondale Moore. They haven't seen a running back like D.J. Knox and I'm not personally sold on either of Purdue's quarterbacks but they're better than anybody Purdue has seen."
GoldandBlack.com: Is this four-game stretch the most crucial part of Missouri's schedule with at Purdue, vs. South Carolina, vs. Georgia and at Alabama consecutively?
DeArmond: "I'll go further. This game this weekend makes or breaks the Missouri season. Because if you don't win this game, you're going 7-5. You win this game and eight, nine or 10 wins are all on the table. If you can emerge from the next four games at 2-2, you're in good shape. You're looking at a road game at Alabama where if you play that 100 times, you maybe win it twice. Georgia isn't Alabama but maybe you win that one twice in 10 tries. A 5-1 or 6-0 record in the back half of the schedule should be in the cards because the SEC East isn't very daunting. But you have to get there first. I've said it before, but the bar for Missouri this year is 8-4 because they lose Lock, Beckner, Hall; it loses a lot of guys.
"I don't know who the heir apparent is to replace Lock. So if you're Barry Odom and you take a step back after 9-3 that's one thing. If you're in year four and stepping back after another 7-6 and you had a kid at quarterback setting SEC records and you never won more than seven games with him, I wouldn't be too comfortable in the offseason. Missouri fans have pointed at this game all offseason and only partially because of what happened last year but also because they need to be 3-0 going into that Georgia, South Carolina, Alabama stretch. That's as difficult a three-week stretch as anybody in America will have. Ninety-five percent of teams will go 0-3 in that stretch."
GoldandBlack.com: Last year, Missouri lost back-to-back home games to Purdue and Auburn by a combined 86-17. Can you give us some insight on how remarkable the turnaround to last season was and maybe how fortunate it was for Odom?
DeArmond: "Yeah, I go both ways on this. He definitely deserves credit for it. Most teams at 1-5 fold up and quit. They didn't do that. However, it is the same story as this year when talking about the back half of their schedule. They went 6-0 in the final part of the regular season but they didn't beat anybody with a winning record so a lot of people still had questions about what we are going to see this year. The Purdue game was the start of what everybody thought was something bad. I've watched Missouri football now for 30-35 years and they didn't go to a bowl game between 1983 and 1998 and they were beaten in some games by 60-70 points. I say that to say this -- that Purdue game last year was one of the five worst Missouri football games I've ever witnessed. They did nothing well. I wasn't shocked a Jeff Brohm offense put up 35 points and they could've put up 55 if they wanted to (that day), but I was shocked how inept the Missouri offense was. The Purdue defense on that day looked like the 1985 Chicago Bears. I think Missouri people didn't understand how Purdue was so much better under Brohm.
"Missouri better come ready to play Saturday because Purdue has its back against the wall. From the Missouri perspective, if you can't get up for this game after what happened last year, you don't need to be playing Division 1 football. I don't use this term lightly but Purdue embarrassed Missouri last year. I would imagine Missouri players are going to by sky high for this game."