Play or redshirt: Forecasting the freshman offensive linemen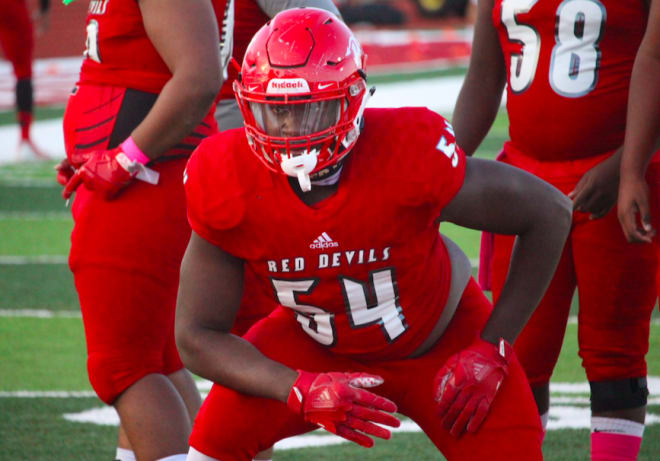 The offensive line seemingly has been a work in progress since the day Jeff Brohm walked in the door prior to the 2017 season.
Brohm inherited a line that was in disrepair, sorely lacking depth. His staff quickly got the unit up to speed in Year One with help from grad transfers Shane Evans and Dave Steinmetz who worked with veterans like Kirk Barron, Matt McCann, Eric Swingler and Grant Hermanns. Insiders feel that was the best line of the Brohm era.
Since then, Purdue has been playing catchup, adding talent and developing it while also sprinkling in transfers. The 2021 line has more depth than any under Brohm. Still, work must be done for a unit that has to become more physical in the run game.
How much urgency is there to improving the front? Purdue has devoted two of its 10 full-time assistant coaches to the unit, which is almost unheard of in the college ranks. Dale Williams remains the main coach, while Neil Callaway was promoted from Senior Analyst to assistant o-line coach in the offseason. Purdue is sacrificing having a full-time tight ends coach--a position Williams also will coach--to accommodate Callaway.
Offensive line situation: Purdue has the makings of a solid front.
The No. 1 unit figures to line up thusly, from left to right: T Greg Long; G Spencer Holstege; C Gus Hartwig; G Tyler Witt; T Cam Craig.
Who's the best lineman? It's Long, for now. He earned honorable mention All-Big Ten honors last year after transferring from UTEP. Long was better than expected and was more than welcomed back as a super senior in 2021. He will move from right to left tackle to replace Hermanns.

Craig has potential, but the redshirt sophomore is coming off shoulder surgery and never has played tackle. He opened 2020 as the starting left guard before getting hurt.
Holstege, a redshirt sophomore, and Witt, a grad transfer from Western Kentucky, are both powerful blockers who lack athletic ability. But each is starting-caliber. Holstege started five games at left guard after Craig was hurt. Witt was a starter each of the last three seasons at left guard for the Hilltoppers and made 43 career starts.
Hartwig was the rare true freshman offensive lineman to see action, playing in all six games in 2020 with three starts at right guard. He was honorable mention All-Big Ten. Hartwig was the first true freshman to start on Purdue's offensive line since 2008. He will transition to center.
The second unit likely will include redshirt junior Eric Miller and redshirt sophomore Dave Monnot at tackle, with redshirt freshman Jared Bycznski and fifth-year senior DJ Washington at guard. Washington started one game at right guard in 2020.
Fifth-year senior Sam Garvin will backup at center, where he started all six games last year.
Purdue has signed four prep offensive linemen in each of Brohm's five recruiting classes, with one JC.
2021: Jaelin Alstott-VanDeVanter, Marcus Mbow, Mahamane Moussa, Zach Richards
2020: Nalin Fox, Josh Kaltenberger, Bycznski, Hartwig
2019: Kyle Jornigan; Monnot, Craig, Holstege
2018: Jimmy McKenna, Will Bramel, Eric Miller, Charles Allen
2017: DeShon Washington, Viktor Beach, Jalen Jackson, Ethan Smart (JC), Mark Stickford
Injury attrition/departures have taken a toll over the years. The latest players to depart are Bramel, Jornigan, Stickford and McKenna. Jornigan started the first two games of 2020 at right guard. The only lineman left from Brohm's first two classes is Miller.
The transfer market has helped fill voids along the o-line since Brohm arrived, with Long (UTEP), Evans (Northern Illinois), Dennis Edwards (Western Kentucky) and Steinmetz (Rhode Island) playing key roles in recent seasons. Witt is the latest o-line transfer addition. And Garvin transferred from Indiana as a walk-on.
Do any of the four 2021 freshman offensive linemen have a shot to play this fall? Here is our best guess.
Jaelin Alstott-VanDeVanter verdict: REDSHIRT. The in-state product has an enticing 6-6 frame to go along with decent athletic ability. And he arrived in time to take part in spring drills, the lone member of the 2021 o-line class to do so. But at 280, Alstott-VanDeVanter--who projects as a tackle--needs to bulk up. And he's still relatively new to football.
Marcus Mbow verdict: REDSHIRT. The Wisconsin native may be the most athletic of this group. Mbow grew up dreaming of playing hoops, which was his focus for years. He has concentrated on football in recent years while still playing basketball. Mbow is 6-5, 315 and projects to play tackle. He would seem to be the most game-ready among this foursome. Still, Mbow figures to redshirt. He could end up being a steal.
Mahamane Moussa verdict: REDSHIRT. The 6-5, 270-pound Indianapolis Pike High native ups the athletic quotient on this group of 2021 linemen. He has been described by his prep coach as a "freak" athlete. Moussa projects as a tackle but needs to refine his technique and skill as well as get stronger. He has nice upside.
Zach Richards verdict: REDSHIRT. The 6-3, 300-pounder played at Mooresville High with Alstott-VanDeVanter. Richards figures to play guard at Purdue. He even could be a center. And, to play on the interior, he will need to get stronger.