From walk-on to BMOC, the rise of O'Connell is fairy-tale stuff
Aidan O'Connell was overcome with emotion as he knelt on the sideline last Saturday at Northwestern. So many things crossed his mind as Purdue closed in on victory.
"I just had been reflecting lately on my life, my journey to get where I am," said O'Connell. "I didn't intend for it to be on TV for everyone to see. That wasn't my intention. I didn't want the attention, the publicity like that. That was just raw emotion overtaking me. I couldn't really control it. It just kind of happened."
It was a beautiful scene, an apt snapshot of an unlikely hero who was filled with gratitude in the biggest moment of his sporting life. It was raw. It was pure. It was authentic. The rise of this sophomore walk-on quarterback with the boyish face is shaping up as the most compelling storyline in what has been an often tumultuous 2019 season for Purdue.
No one saw this coming. Nope. No way. Back in August, O'Connell was lost on the depth chart, just another line on school-issued roster. He was No. 16, between Kory Taylor and Byron Perkins. Your index finger slid right past his name.

In the quarterback room, O'Connell was stuck behind Elijah Sindelar, Jack Plummer and Nick Sipe. It seemed like a steep climb to the top ... an unlikely climb. Did O'Connell ever think of leaving Purdue while he was toiling in clipboard purgatory?
"No, I wouldn't say that," said O'Connell. "My first two years here were pretty low key. I was kind of doing my own thing. No one really knew about me. I think that was super important to me. In that process, God was showing me my heart and shaping me to become the person I am now. I think I needed those two years to not be in the spotlight."
Oh, he was WAY out of the spotlight. But now, the kid from the Chicago suburbs has the keys to Jeff Brohm's offense. It's O'Connell who has been cast in the lead role during the Boilermakers' drive to a third bowl in a row.

The unlikely has happened: O'Connell is the No. 1 quarterback.

Count Purdue co-offensive coordinator/quarterbacks coach Brian Brohm among the impressed with how O'Connell handled his big moment last Saturday. It was O'Connell's first start. Ever. Oh, and Purdue's bowl hopes were on the line, too. Talk about pressure. But O'Connell wasn't swallowed up by the moment.
"It's huge," said Brohm. "It proves that the moment isn't too big for him. I think some of that does happen when you're a walk-on. You have to work your way up the depth chart. … But he kept grinding. The mental makeup of a guy who does all that, I think that does pay off when they get in those crunch-time situations. … nothing was handed to them. The pressure always has been on for (walk-ons)."
Story continues below photo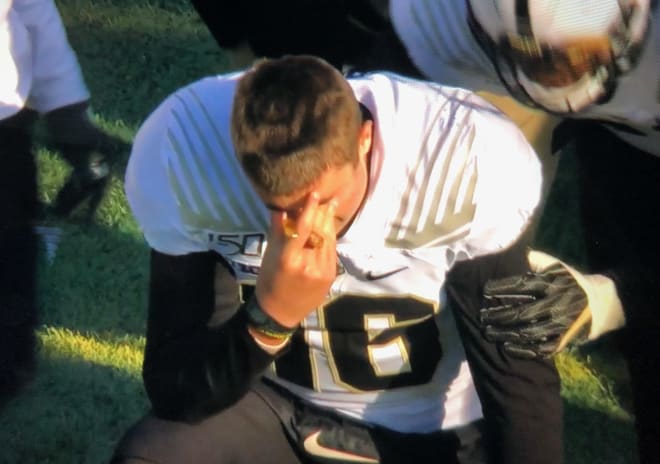 Pressure? You never sense O'Connell feels any of it. He speaks in calm, even tones. And he doesn't seem excitable. He comes off as cool. Collected. And confident enough to tell his receivers to work for pass interference calls on the Boilermakers' game-winning drive on Saturday.
"He actually talked to the receivers on the sideline and said, 'Hey, if we throw the go ball, and they are on you, make sure come back for the ball, you go up for it. Because they are interfering,' said Brohm.

"It didn't play out exactly that way, but we got an interference call which was pretty bright of him to be able recognize that in the game situation."
That big P.I. came when Purdue faced a 4th-and-four from the Northwestern 39-yard line. Convert … or the game was over. O'Connell spied David Bell, who was draped by a Wildcat defender. Out came a yellow flag. That resulted in a first down. Four plays later, J.D. Dellinger drilled the game-winning 39-yard field goal with three seconds left in the contest.

"Looking back on film, I could have played a lot better on the last drive," said O'Connell, who is completing 68 percent (49-of-72) of his passes for 404 yards with three touchdowns and two interceptions. "Looking at the film, I missed some reads, I missed some throws I wish I could have made. It would have made the game a lot less stressful at the end. Still a lot to improve on."
There is time for that. Purdue (4-6 overall; 3-4 Big Ten) is off this week before playing at Wisconsin on November 23. Like the last two weeks, it's a must-win game for Purdue if it wants to reach the six victories needed for bowl eligibility.
"The way he plays, he needs to try to be perfect with his reads and perfect mechanics, which he does a good job of," said Brohm. "He is not gonna be the most elusive guy … He's gonna be a pocket guy, make quick decisions, get the ball out timely and accurately. He did that for the most part on Saturday."
O'Connell connected on 34-of-50 passes for 271 yards with two touchdowns and two interceptions at Northwestern. Not bad for the first walk-on ever to start at quarterback for Purdue. The culmination of all that … the passes, the yards, the victory … overwhelmed O'Connell, A Stevenson High grad got to do all of this in front of myriad family and friends from his hometown area.
This is fairy-tale stuff.
"It was emotional," said O'Connell. "Those people have been there through so much for me. To reflect on that … moments just pop up in my head. My childhood, leading up into middle school, high school. … moments when things weren't looking good. I thought doors were closing. People kept supporting me, kept telling me they loved me, telling me they believe in me. You feel like you can do anything."
O'Connell's phone blew up with over 100 texts after the 24-22 win. And on campus, he is acknowledged with a fist pump or friendly nod.
"It's a little weird," he said. "I appreciate the support."
Now, the big question: When is O'Connell going on scholarship?
"I don't know," he said. "That's not in my hands. We'll see. It's all good. I'm just doing what I can to win games."