Purdue DT Keiwan Jones calls injury 'a blessing'
Keiwan Jones says his knee injury was a blessing.
That's right. When the defensive lineman tore his ACL on the last day of training camp last year, he thinks it changed the course of his career.
For the better.
"I can say I wasn't there mentally (before)," Jones said at media day Sunday, a day after he rose to No. 1 on the depth chart at nose tackle, "and after I injured myself I really missed the game, so I really pushed myself and made sure I didn't get injured again and I really put my focus into football and myself."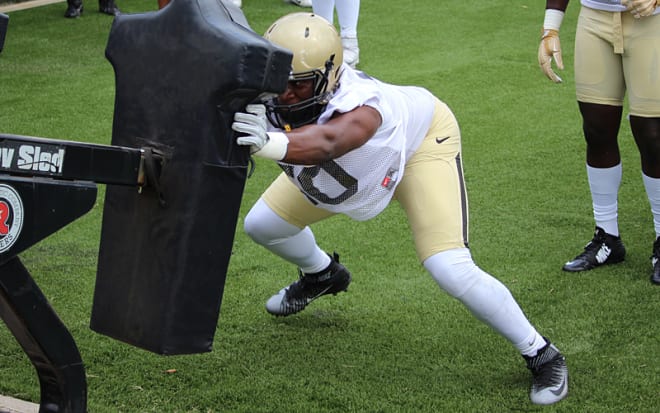 Jones' recent ascent has seemed quick, probably because he wasn't part of the picture before his injury. The Ocala, Fla., native redshirted as a freshman, looking then like a player without a position on the D-line: Too small to be a defensive tackle, but too big to be an end.
And he wasn't on the depth chart last training camp, perhaps getting a few opportunities on the third-team defense but not much else. And when he was hurt, few noticed. It wasn't reported until months later, although Jones had spent weeks walking the sidelines during practice in street clothes.
He just didn't matter.
He does now.
Jones, a sophomore, can take credit for working so hard to not only get back, but to return better.
"I could tell how upset he was," defensive tackle Jake Replogle said. "He was with us, but you could tell he felt not as big a part of us. You can't do drills, you can't practice, you can't do the things your brothers are. He had a journey himself going through recovery but you could tell. He talked about how much he wanted to get back and how much it affected him. I thought it sparked him."
When Jones was hurt nearly a year ago, he didn't think it was a big deal. He came to the sideline, figuring the injury was only a tweak, but when he asked trainers about going back in, they said no. It was more significant.
An MRI later revealed the ACL tear, putting Jones out his second consecutive year.
It was depressing because Jones felt he'd had a good summer, starting to change his body into that of a D-I D-lineman.
"When I first found out, I did cry, cried a lot," Jones said. "I was really upset because I had put so much into it. But afterward, I knew I just had to get back. I had a fast recovery, did everything right. I did everything they told me to do."
Part of that charge has been to get bigger, but do so in a healthy matter. When Jones was a senior at Dunnellon High School, he ate his way from about 240 during the fall to 280 before arriving at Purdue.
But that was bad weight.
"I was really out of shape," Jones said.
The ACL injury helped in a transformation. Afterward, Jones lost weight, then was able to put it back on by eating right. The 6-foot-2 sophomore is back up to about 267 now, undersized but feeling stronger than ever.
"Everything went up. I'm in better shape, I run better," said Jones, who would eventually like to play at about 280 pounds, but likely won't get there this year. "The stamina is better. But the most important thing that I focused on was mental, because if I handle mental, the strength, stamina all that comes with it.
"Speed, leverage, technique, that's what I used to make up for my size. These are some big guys, but I use what they don't have to beat them. Compete with them, that's why I'm able to get reps with the 1s."
Jones will keep competing. Before Saturday, fellow sophomore Eddy Wilson had taken a majority of the No. 1 snaps at nose tackle since the start of the spring and he might be able to get the job back. But Jones knows he's worked his way into the picture.
"This summer has been excellent for me," he said. "I just want to help my guys out, want to win, bring the old Purdue back."