Don't miss this limited time offer for the best in hoops coverage!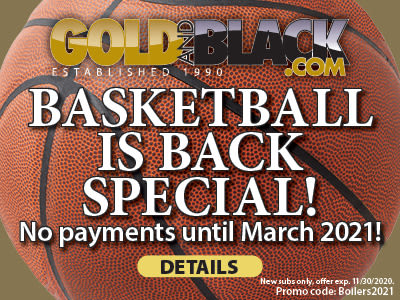 With Purdue football in full swing and basketball tipping off soon, there has never been a better time to become a member of GoldandBlack.com. Join our community and get all our team and recruiting coverage of football and basketball and much, much more. 
Here's how the promo works:
Promo Code: Boilers2021
Offer: Free trial - premium access - new subscribers only with free trial until March, 1, 2021
Offer valid through 11.30.2020
To sign up:
THE FINE PRINT
PREMIUM ACCESS FREE TRIAL until March 1, 2021. (Please read the terms of service. This offer can not be combined with any other offer in the Rivals network.
**Your subscription will auto-renew at [$9.95 per month/$99.95 per year] until you cancel. To avoid being charged at the rate above, you must cancel before the promotion period ends. New subscribers only. You will not be charged until 03.01.21.