Purdue rolls over Norway in World University Games scrimmage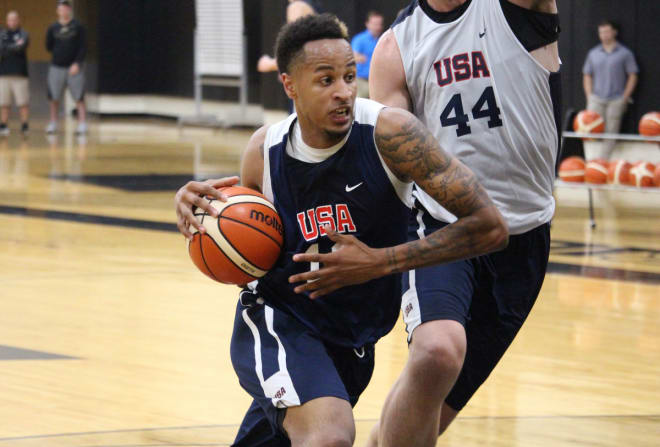 More ($): Hot Box Score Takes/Analysis
It won't count toward the standings, but Purdue's World University Games debut Friday was an overwhelming success, as Team USA beat Norway 81-49 in a pre-event scrimmage.
It was a rout, but an uneven one.
Similarly to Purdue's two exhibition wins over Canada in the States, the opponent made a significant second-quarter run. After Purdue led 25-4 after the first quarter, it took a a lead of just seven — 34-27 — into halftime, before outscoring Norway 39-13 in the third on its way to a 32-point victory.
"We started off really well, 25-4, and then this was a team that played really fast in their cuts and we didn't know anything about them and the way they run their offense," assistant coach Greg Gary said from Taipei. "They missed some shots early, but some of the other guys who came in found their rhythm and made some shots. It was a good learning experience for them, because they have to be able to make adjustments on the fly, especially when you don't have much information."
Purdue also again managed its lineups to divide minutes fairly evenly across the roster. That's produced some second-quarter inconsistencies, with the hope for Matt Painter then being that it will help his team's newer players when the games matter more in World University Games play.
"You're going to have to work through some of those growing pains," Gary said.
According to Purdue's dispatches from the event, senior Vincent Edwards was 8-of-9 shooting, 4-of-4 from three-point range, for 21 points.
"He didn't force a lot," Gary said, "and was just Vince."
Classmate Isaac Haas scored 16 points on 7-of-7 shooting.

Continuing his strong play, Jacquil Taylor came off the bench to grab 12 rebounds in 16 minutes.
"He's being active," Gary said. "He's playing with energy, playing with a (high) motor."
Same for forward Grady Eifert, who scored 10 points in nine minutes.
Purdue was just 10-of-30 from three-point range — it didn't shoot well in either exhibition — but shot 36 percent overall and won the rebounding column 44-35.
The Boilermakers/U.S. open Games pool play Sunday vs. Argentina. It was announced Friday that most of the games in Taipei will be streamed here.