{{ timeAgo('2021-04-22 10:19:24 -0500') }}
basketball
Edit
Terry Johnson will join Painter's staff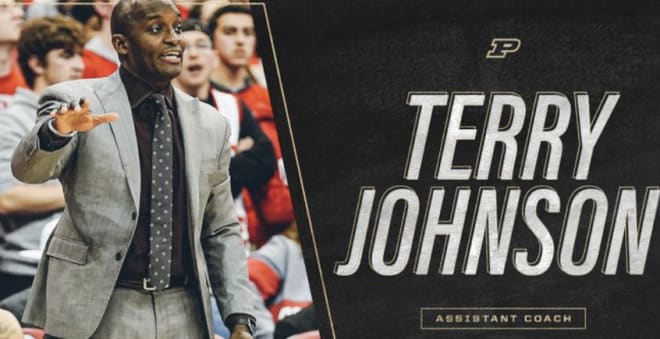 Matt Painter's completed his coaching staff by pulling accomplished assistant Terry Johnson away from conference rival Ohio State.
Johnson joins Paul Lusk — the former Missouri State head coach and Creighton assistant who'll return to Purdue for a second stint with Painter — as Purdue's replacements for the departed Micah Shrewsberry and Steve Lutz, who became the head coaches at Penn State and Texas A&M-Corpus Christi, respectively. Veteran assistant Brandon Brantley Is the lone holdover from Painter's three-man bench staff.
Like Shrewsberry, Johnson comes from the Butler coaching tree, having worked there from 2007-2017 under head coaches Brad Stevens, Brandon Miller and Chris Holtmann before joining Holtmann at Ohio State, where he largely oversaw the Buckeyes' defense, which finished 15th, 25th and 19th nationally in efficiency per KenPom before coming in 82nd this past season.
Johnson has earned a reputation, as well, as a strong recruiter, well known in the state of Indiana, especially, and figures to be a candidate for head coaching jobs in the near future.
His roles at Butler and Ohio State have centered largely around defense. When Purdue lost Shrewsberry, it lost its offensive coordinator.
How that will play out on Painter's staff remains to be seen. Lusk was hired to primarily coach the defense.
"I'm never going to go out and look for somebody who helps us from an offensive standpoint and then that's the only criteria," Painter said last week. "I handcuff myself, but I think being patient and trying to find the right guy is more important than getting the right guy from a schematic standpoint. But I am looking for both."
In recent years, Painter had shifted to a coordinator model on his staff, where Greg Gary and then Shrewsberry concentrated on offense — and called the plays with relative autonomy — and Jack Owens and then Lutz managed the defense.
Painter said of his commitment to the coordinator arrangement: "It depends who I get."