Vincent Edwards will return to Purdue for his senior season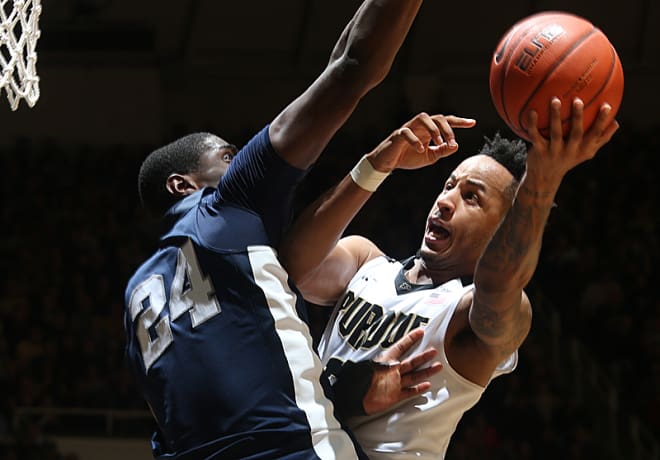 After testing his NBA draft stock for the second time in as many years, Purdue forward Vincent Edwards will withdraw from the draft for the second time in as many years and will return to college for his senior season, GoldandBlack.com has learned.
UPDATE: Edwards made his announcement a little after noon on Wednesday.
As center Isaac Haas did prior, Edwards participated in several workouts for NBA teams, but opted to return to Purdue for his fourth and final season. Edwards was not generally perceived as a likely draft pick. He did, though, visit with and work out for the Oklahoma City Thunder, New Orleans Pelicans and Indiana Pacers. He had to withdraw from a previously scheduled workout for the Milwaukee Bucks.
Almost certain to be a fourth-year starter in 2017-18, Edwards was a key component to Purdue's Big Ten championship team this past season, averaging 12.6 points and just under five rebounds per game. He tied Haas for second on the team in scoring and trailed just Dakota Mathias with 112 assists, a category he led the Boilermakers in as a freshman and sophomore.
Edwards, who divided his time between both forward positions this season, shot 49 percent from the floor, 42 percent from three-point range and 82 percent from the foul line.
He played some of his best basketball when it mattered most, scoring 21 points in each of Purdue's first two NCAA Tournament games, wins over Vermont and Iowa State in Milwaukee. And some of his top performances during the regular season came in some of Purdue's more important road victories, namely his 26-game point showing at Indiana and 25-point game at Northwestern to end the regular season.
Edwards' return assures Purdue that its entire senior class will remain intact through the entirety of its college career. Haas and Edwards are joined in that group by Mathias and point guard P.J. Thompson.
Now, Purdue just waits for a decision from All-American Caleb Swanigan, for which a return to school now appears to be a legitimate possibility. Should he return, Purdue will return almost entirely intact from its 27-win, conference-champion team from this past season.