Vincent Edwards rises despite illness, delivers 'gut check' performance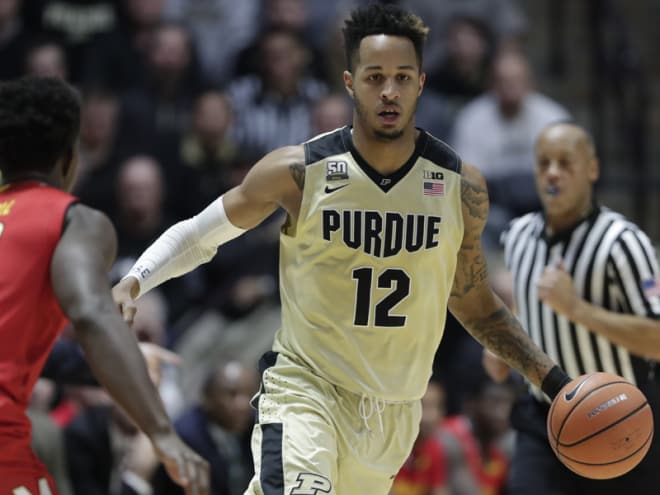 More from Wednesday: Purdue weathers scare to get past Maryland
More on Edwards: Lasting Legacy: Vincent Edwards
Vincent Edwards played 35 minutes of third-ranked Purdue's 75-67 victory over Maryland Wednesday.
He lugged up the court, down the court, tried to get legs underneath his jump shot, tried to stay with ballhandlers and through screens on defense.
But, really, the quickest he moved maybe all night was when he raced off the bench at points during the game and, apparently, off the court after a BTN interview with Seth Davis.
Edwards needed to get to the locker room.
To vomit.
And, yet, one of the Big Ten's candidates for Player of the Year still, somehow, summoned enough energy to grab a team-high 11 rebounds, a couple that he even bullied his way toward under the rim with a bunch of bodies there.
Somehow, he still had the poise to dish out a team-high five assists, including a key one from the top of the key that produced an Isaac Haas dunk for a 10-point lead in the second half.
Somehow, he managed to get to the rim off a drive and get fouled and sink two free throws for a 12-point lead with 5:26 to play. And then followed that up with enough oomph to slice through the lane, take a feed from Haas off a double and get the ball into the bucket — a rarity on this night when he often appeared tired — with 3:30 to play to keep Purdue with a cushion.
It was quite the performance for a senior captain, who wasn't made available to local reporters after the game, when Purdue could use every bit of it.
"Vince is a tough guy. He's built for moments like these," said point guard P.J. Thompson, who also sounded stuff-up and spoke after gathering himself from a cough. "I thought he played really well. He didn't have his best shooting game, but he did other things to disrupt the game. He rebounded at a high level. He passed the ball well and played good defense.
"Even though he was under the weather a bit — I mean, he was throwing up 15 minutes before the game — to come out there and do that was pretty impressive."
Edwards was coming off league Player-of-the-Week honors after averaging 24.5 points on 16-of-26 shooting, 6.0 rebounds and 3.5 assists in two games.
His Wednesday line may not have looked as impressive — especially his shooting, scoring only eight points on 3-of-8 attempts — but few weren't wowed by his effort.
It wasn't just good buddy Thompson praising Edwards. Even Coach Matt Painter, who demands a lot from Edwards, offered glowing compliments.
"It was a real gut check in terms of having the flu, throwing up before the game and to be able to go out there, (have only one) turnover, get five assists and 11 rebounds was huge," Painter said. "You can see the first two or three shots he (took), he's normally going to make those shots. He just didn't have his legs under him and didn't have quite the balance to complete those plays.
"I thought what he did (Wednesday) was huge. Maybe one of the best games he's played all year."
Maryland coach Mark Turgeon said he didn't want to hear about Edwards' illness — the Terps were playing with only six scholarship guys by the end of Wednesday night because of injuries recent and earlier this season — but he still was impressed with Purdue's 4.
Especially that rebounding performance.
"Man has he gotten more athletic. I don't remember him being that athletic," Turgeon said. "He had some rebounds where he was way up there."
Turgeon likely was referencing Edwards soaring to snatch a rebound during what was a pivotal stretch about five minutes into the second half. After looking off Dakota Mathias' on the perimeter — and maybe not even looking into the post at all — Edwards zipped a pass into the lane to Matt Haarms for a two-handed slam. About a minute later, Maryland's Anthony Cowan clanked a three-pointer from way deep, and Edwards took off and soared through the lane to grab it.
About two minutes later, Edwards fought for an offensive rebound off a Mathias missed three-pointer and put it back in for a 53-43 lead.
"When you get under the weather and you're not feeling great, a lot of things go through your mind," Painter said. "Trying to keep things simple and just dominating the effort category. I thought he gave a great effort."