Willis commitment to Purdue uncertain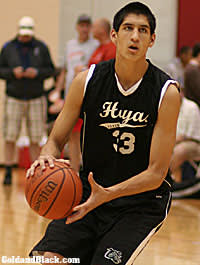 His high school coach, Troy Barr, said Thursday that Willis indicated to him that he's withdrawing the commitment he made to Purdue in the spring.
"It's something he kind of hit me with today," Barr said, "but it's apparently been on his mind for some time from what he told me."
Willis' father, Del, however, painted the picture of a fluid situation.
"He's still committed," Del Willis said. "Nothing's changed as of yet. He's had a little bit of second thoughts, but nothing's changed and I don't know if it will. We're going to sit down here the next couple days and really talk this out, the pros and cons of everything.
"I don't know what's going on in his head exactly, but that's what we're going to get to. I do know there's a lot of pressure on him."
A decision whether to open up or not for absolute certain will be made by Sunday, Del Willis said.
The multi-skilled 6-foot--9 forward from Bullitt East High School in Kentucky committed to Purdue immediately after being offered in the spring, then saw his stock sky-rocket weeks later on the AAU circuit to where he's considered a top 30-40 prospect nationally in the 2013 class.
"I think the really important thing in this whole deal," Barr said, "is the fact that Derek just turned 16 years old. He's a really young kid and age-wise he should only now be going into his sophomore year of high school.
"If any of us can be remember back to when we were 16 years old, we didn't know what we wanted 30 seconds from now, much less three years from now."
Del Willis talked of the difficulty his son's faced.
"People look at this for their own benefit," he said, "but they don't realize how much pressure this kid's under.
"It's not so much other schools (applying pressure), but other people. Anywhere he goes ... sometimes there's some pretty negative stuff, like, 'You're turning your back on your own city,' even though we don't live in Louisville. We live outside Louisville. ... It's silly stuff and a 16-year-old kid shouldn't have to listen to any of that crap."
Barr said he talked with Purdue coach Matt Painter.
"It's like I said to Coach Painter, 'It's got to be very difficult dealing with young kids like that,'" Barr said. "They change their mind so often."
Del Willis said he talked with Painter "for a half an hour" and will call him back Sunday.
Barr said that since Willis committed, other schools have obviously taken notice of the blue-chip forward.
"I can't say I've been contacted that much," Barr said. "But there's been a lot of 'he said, she said,' stuff in terms of, 'This coach said this and this coach said this, that they wished they'd had a chance to recruit him.' It's been a lot of second-hand stuff.
"It was nothing direct, but a lot of in-direct stuff. With a 16-year-old kid, it takes a toll on them, I think, whether it's totally true or not."
Barr suggested Willis, "just wants to visit other schools and see what's out there."
"I think Purdue's still in the mix if they want him," Barr said. "I don't know, though. I honestly haven't gotten to talk to Coach (Matt) Painter and Coach (Jack) Owens enough to figure out if they still do.
"I really hope they do. They're an extremely classy bunch of guys and if I had a son good enough to play for them, I'd sure want him playing at Purdue.
"I told Derek I'd do everything I could to keep (Purdue) recruiting him and he said that's what he wanted."
Willis, Barr said, specifically indicated interest only in visiting Louisville and Kentucky.
"He has nothing planned as of now," Barr said, "but when I asked him who he was wanting to visit he said UK and U of L."
Del Willis reiterated many of the positives he's talked about with Purdue ever since the commitment was made in the first place.
"We have such a comfort zone with Coach Painter and Coach Owens," Del Willis said, "and it's like I told them, 'I don't know if I can trust a Coach (Rick) Pitino or Coach (John) Calipari. Their agenda is more for their benefit than the kid's. They're more worried about themselves."