After shining in Shrine Game, David Blough takes aim at NFL
MORE: Spring preview quarterbacks

David Blough has closed the Purdue chapter of his football career. Now, he is pursing a professional career. And he impressed at the Shrine Game last Saturday in St. Petersburg, Fla.
Blough connected on 10-of-15 passes for 149 yards and two touchdowns, hitting Georgia's Terry Godwin II on 6- and 18-yard scoring tosses for the East squad. No doubt, he helped his NFL stock.

"I was given a head start on the other guys," said Blough, whose East team fell, 21-17, to the West. "A lot of rookies didn't have this opportunity. I think it's going to prepare me for when I get into a camp in the NFL. I will know what to expect. And I made a lot of connections and I met a lot of coaches who helped and shared some things with me on how the NFL works."
Will he be drafted? It's difficult to know right now, but Blough is positioning himself for a chance to earn a living playing football.
"There is no telling what could come," he said. "I don't know if I will go fifth round, seventh round, be undrafted. I haven't really been told much. I had some good interviews. All I need is an opportunity to show what I can do."
Blough says he spoke with 18 teams at the Shrine Game, where his head coach was Sam Mills, Jr., the defensive line coach of the Carolina Panthers. Blough said he had good talks with Jacksonville, Miami and Washington, among other teams.
"It was great overall," said Blough. "It was an opportunity to showcase what I could do for a program. The things Purdue fans saw from me came out on display. I was voted a team captain by the coaches, I got to start and played pretty well in the game and had some good practices. I was just trying to showcase what I could do to help an organization, the kind of leader I was, that I could understand the playbook, an NFL system."
Blough enjoyed a memorable senior season in West Lafayette that saw him start the final 12 games of 2018 and earn third-team All-Big Ten honors from the media and honorable mention from the coaches after he hit 66 percent of his passes for 3,705 yards with 25 TDs and 10 interceptions.
Not bad for a guy who was coming off a brutal ankle injury that ended his 2017 season in November and cast doubt over this career. If that wasn't bad enough, Blough lost a competition with Elijah Sindelar for the starting job in training camp prior to last season. But Blough was undaunted, which was a hallmark of his Purdue career.
Story continues below photo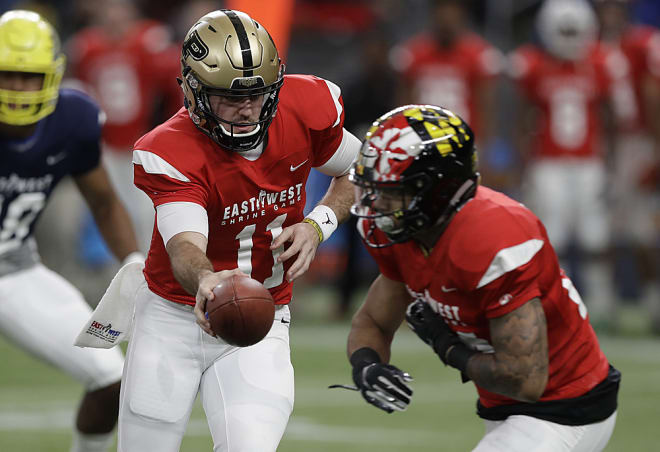 Blough leaves campus having made 37 career starts, ranking No. 3 in Purdue history in attempts (1,429), completions (871) and TD tosses (69), while finishing No. 5 in pass yards (9,734).
"My time at Purdue helped (me do well in the Shrine Game)," Blough said. "If you saw Coach Brohm's call sheet compared to the call sheet we used in the Shrine game, you would understand why I was able to pick it up so easy. Coach Brohm has a lot of play calls, more than we even had on Saturday."
Now, Blough is training at the Michael Johnson Performance in Dallas. He hopes to get a Combine invite, which he anticipates the NFL sending out to prospects later this month. He also says Purdue's Pro Day "as of now should be March 5." For now, he is grateful for his Shrine Game experience.
"There are some teams that are cold to you for some reason," said Blough., who is being represented by Octagon talent agency. "Some are just asking for background, some asked about the turnovers I had my sophomore year, some asked about my best games, what my best quarterback traits are. They are trying to find out some things about you. They have done their homework, they just want to meet face to face. It is more them interviewing you than giving you feedback."