Catching up with ... Mike Phipps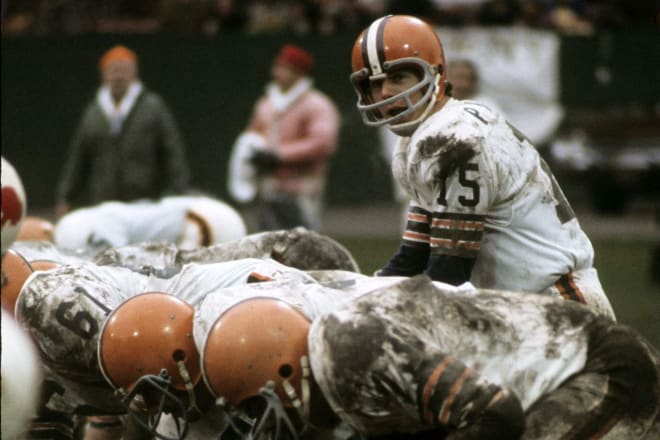 MORE: Rodney Carter | Jim Everett | Jim Schwantz | Ryan Russell | Dustin Keller
Purdue has had many great quarterbacks over the years. But few have enjoyed more success than Mike Phipps.
A native of Columbus, Ind., Phipps was a three-year starter who followed Bob Griese as the Boilermaker quarterback in 1967 and proceeded to guide the program to three consecutive 8-2 seasons and a share of the title as a sophomore.

Phipps hit 51.2 percent of his passes (375-of-733) for 5,423 yards with 37 touchdowns and 34 interceptions. He famously led No. 1 Purdue to 37-22 win vs. No. 2 Notre Dame in 1968. It was the only time the program has ranked No. 1. Phipps threw for 2,527 yards and 23 touchdowns as a senior in 1969, when he was an All-American, the Big Ten MVP and Heisman runner-up.

Phipps played in the NFL from 1970-81, spending seven season in Cleveland (1970-76) and five in Chicago (1977-81). Phipps passed for 10,506 yards with 55 TDs and 108 picks. His best season wad 1972 in Cleveland, when he went 10-3 and passed for a career-high 1,994 yards and 13 TDs.
GoldandBlack.com talked to the 72-year-old Phipps about his Purdue and NFL careers, among other topics.

GoldandBlack.com: How did you end up at Purdue?
Phipps: My stepfather was a Purdue grad. And in the neighborhood we lived in, I had a neighbor on my right who was an IU grad and one on my left who was a Purdue grad. There was a tug-of-war going on a long time between those two. Purdue reached out to me early. I did my visit and was tremendously impressed with Coach Mollenkopf and the offensive coordinator Bob DeMoss. I wasn't really that highly recruited … IU, Purdue … Ball State showed some interest. Some Ivy League schools.
GoldandBlack.com: Were you surprised you started as a sophomore?
Phipps: I knew I had talent and would be given an opportunity after Bob Griese left. In the Spring of 1967, there were eight quarterbacks. Competition was pretty intense. I came down to me and Mike Engelbrecht, a junior. Mike got hurt and faded out of the picture. So, coaches made the decision it would be me who would start. That was a turn of events that helped me.
GoldandBlack.com: What was the highlight of your career?
Phipps: Beating Ohio State over there my sophomore year was big. We just crushed them (41-6). We had some really good battles with IU. Of course, the Notre Dame games were wonderful. (Phipps was 3-0 vs. ND.) But it was the Stanford game that was over the top. That was in 1969. We won 36-35. I had five touchdown passes and Jim (Plunkett) had four. I think combined we had over 900 yards passing. No one had seen anything like that — not in Ross-Ade. We were down a couple touchdowns in the fourth quarter. I had like 200 yards passing in the fourth quarter. It was a magnificent game. Older fans still recall that game.
GoldandBlack.com: You finished second in Heisman voting in 1969. Where did you find out the result?
Phipps: My senior year, we played IU and beat them in Bloomington. I was sitting at the locker and Coach Mollenkopf came over to me and told me I needed to be at President Hovde's office on Monday morning. None of the other Purdue Heisman contenders had been asked to do that before — Leroy (Keyes), Bob (Griese). This seemed to be something different that may be indicating we were going to win. I was there, the phone rang, Hovde picked it up and it didn't take me long to figure out that it didn't go my way. He said: "Oh, that's too bad." (Steve Owens of Oklahoma won, 1,488 points to 1,334 points, one of the closest races ever.)
GoldandBlack.com: And you appeared on the cover of Sports Illustrated while at Purdue, right?
Phipps: Yes, that was my sophomore year after we beat Notre Dame in Ross-Ade (28-21, and ND was No. 1). I still get magazines sent to me to autograph.
Story continues below photo

GoldandBlack.com: How was your NFL experience?
Phipps: I was the third pick in the 1970 draft after Terry Bradshaw and Mike McCoy. Cleveland selected me. I was on my honeymoon in the Virgin Islands when I found out. They just called me. I don't know how they knew how to get a hold of me. My wife took a picture of me laying on the bed in a bathing suit when I was on the phone.
GoldandBlack.com: What was it like playing in Cleveland?
Phipps: It was a tough experience in terms of playing with Cleveland because of the Paul Warfield trade. Cleveland traded him to Miami for the first-round pick they used on me. Paul was a star at Ohio State and for the Browns who was from Warren, Ohio. He was a hometown hero. An excellent player in his prime. Consequently, there were repercussions from fans and players. Not that they were upset about it. They welcomed me. But I think they expected immediately to get the same talent on the field that they lost in Paul. And that just wasn't happening. Having to overcome some of that, it was an obstacle. I just had to deal with it. There was a lot more added pressure on me from the beginning. But that's just the way it was. I dealt with it and did my best. That's how I will leave it.
GoldandBlack.com: What was it like playing for the Bears?
Phipps: The Bears traded a first- and fourth-round pick for me. You'd think I was highly needed. But they had Walter Payton and were gonna run the ball. We didn't throw much. My overall experience in Chicago was great. It was a younger team than Cleveland.
GoldandBlack.com: What have you been doing since leaving football?
Phipps: For the last 27 years, I have been a financial representative for Northwestern Mutual. I am still working. I have time on my hands and I like the challenge. We are doing some great things.
GoldandBlack.com: How is your family life?
Phipps: We had five kids: four boys and one girl. I live in Lighthouse Point, Fla., which is south of Boca Raton, Fla. Whitehouse is a city within Pompano Beach. We have been in south Florida since 1977.