Purdue picks up commitment from three-star 2024 safety Ty Hudkins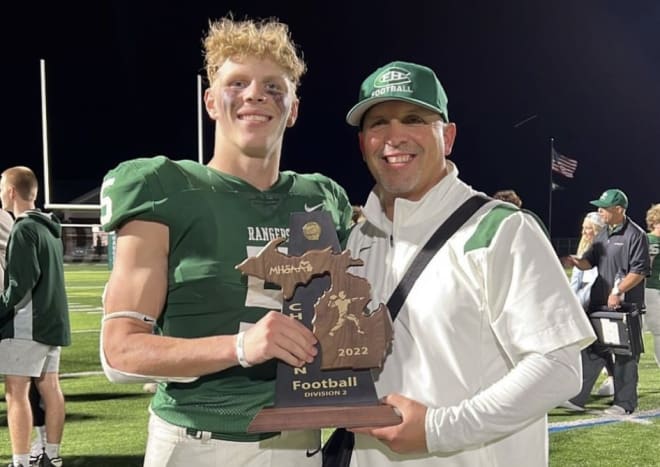 Despite falling short against Syracuse on Saturday night, Purdue got some good news on the recruiting trail. Just three days after his game day visit to West Lafayette, three-star 2024 safety Ty Hudkins committed to the Boilermakers.
"The coaches. Just the coaches energy, the way they coach, their enthusiasm and they love the game. That's what really made me pull the trigger and commit," Hudkins told Boiler Upload after his commitment.
The Grand Rapids, Michigan native had initially committed to Northwestern in late June, but after the abrupt end of Pat Fitzgerald's tenure in Evanston, Hudkins reopened his recruitment earlier this month. Purdue moved quickly on the former Wildcat commit and will now add him to the 2024 recruiting class.
Hudkins first received an offer from the Boilermakers in early June after a standout showing during one of Purdue's summer camps. He also held offers from aforementioned Northwestern, along with Minnesota, Tulane, Eastern Michigan, Central Michigan and others.
Hudkins has starred for Forest Hills Central in Michigan as a defensive back and wide receiver during his high school career. The All-State performer racked up 96 tackles and had 10 pass breakups with two interceptions.
At 6'0", 183 pounds, Hudkins runs a 4.48 second 40-yard dash and plays physically in the secondary. Purdue views him as a free safety or post safety (Dillon Thieneman's role) in the Air Strike defense.
Following his commitment, Hudkins is set to join a strong group of defensive backs in Purdue's 2024 recruiting class. He will pair with four-star athlete Koy Beasley and three-star safeties Luke Williams, LeonTre Bradford and D'Mon Marable on the back end. Three-star cornerbacks Hudauri Hines, Earl Kulp, and William Nettles form the rest of the secondary.
The secondary is undoubtably the strong suit for Purdue's 2024 recruiting class, which now sits at 23 members following Hudkins' commitment on Tuesday. The class is also ranked 26th in the country, according to Rivals.