ARCHIVES: Dakota Mathias literally lived in the gym growing up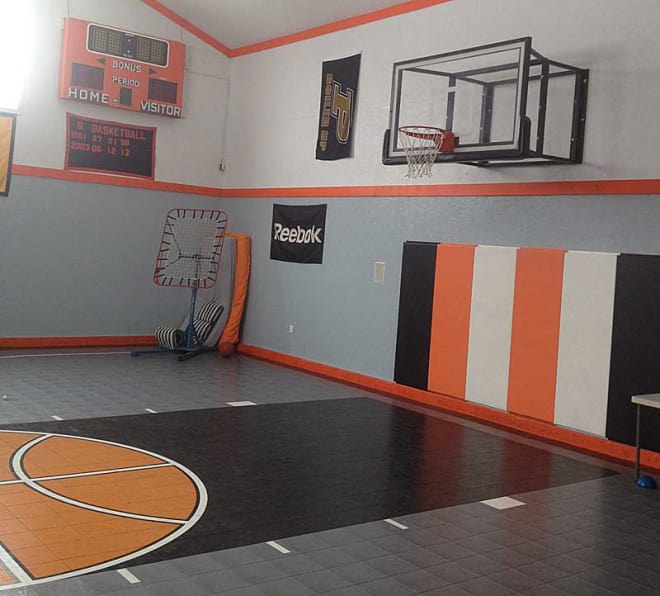 DETROIT — If it's looked the past four years at Purdue as if Dakota Mathias grew up in a gym, there's good reason for it.
He did.
When the current Boilermaker senior was about 5, his family had a gym added to their Elida, Ohio, home.
"It meant everything to me," Mathias said this week at the NCAA Tournament.
He remembers fondly the "thousands" of hours he spent in that space, congregating with friends in the summers, getting "beaten on" by older brothers Dustin and Bo or simply working on his own, to the point parents Dan and Tracy have joked about having to restrict its use at times, rendering obsolete Dan Mathias' initial concerns that the gym might be a fun novelty for a couple weeks, then go unused.
It was used, a lot, and because of it the room has to be considered a pivotal contributor to Dakota Mathias becoming the sort of driven, finely tuned, brilliantly skilled player he has become, not to mention a driving force behind cultivating the work ethic that made Mathias a standout defensive player.
Dakota Mathias acknowledges this, then sighs when asked about the house being sold two years ago, when Dan and Tracy moved to Lafayette, where they plan to stay following their youngest son's graduation.
Years ago, Dan Mathias was concerned about the gym weighing down the value and curb appeal of the Elida home, but says it actually helped, because he found an interested buyer, a former player of his from decades ago who now runs a 3-on-3 league out of his new home.
"The right guy bought it," Mathias said.
Still, it was difficult, as you can tell from the sadness in Dakota Mathias' voice when asked about the house being sold.
"I asked all three of my sons before I decided to take that job (in Lafayette), 'Are you OK with this?' and Dakota was the toughest one, because I knew he would miss that gym," Dan Mathias said. "That last day when we moved out, we all went out in that gym and we all cried. It was tough. There were so many good memories out there."
FROM THE ARCHIVES
The following story ran in Gold and Black Illustrated in the winter of 2014.
ELIDA, Ohio — Some players are said to "live in the gym."
In Dakota Mathias' case, the gym lives with him.
Ever since he was a kid, the Purdue signee's enjoyed a literal home-court advantage few of his peers can match: A basketball court actually built into his Northeast Ohio home, an amenity of convenience that just happens to jibe perfectly with the 6-foot-5 shooting guard's passion for working at, and studying, basketball.
It was around 2002 when Mathias' father, Dan, and friend Mark Long hatched the idea while playing pick-up games at church, on the very court Long had built into the building.
But what began as something of a joke, the notion of Mathias adding an actual gym to his house, turned out to seem reasonable, manageable and worthwhile.
And so it became reality: An addition to the Mathias home, connected by sliding doors, with a 26-foot ceiling at its highest point, 44 feet wide and 26 feet deep, to accommodate a three-point arc all the way around. It's a full honest-to-goodness half court, equipped not with hardwood floors, but one of the next best things, plastic Sport Court tiling.
The room's heated in the winters, sound-proofed and everything. Purdue flags now hang on its walls.
"I was worried when we first did it," Dan Mathias said, "because I was worried about the kids not using it."
It was a valid concern at the time. Renovations, after all, are permanent.
But looking back, Dan Mathias has to laugh over that short-lived thought.
His oldest sons, Dustin and Bo, used the gym plenty.
His youngest, Dakota, has had to be barred from it.
More than once.
"I'd wear myself out in there," Dakota Mathias said, "so my parents would make me take some time off. But I was a gym rat when I was a little kid and still am. I just loved being out there. It doesn't seem like work to me.
"I missed some meals and wouldn't eat. They'd pull me out and tell me to relax a little bit. I was obsessed."
Always has been.
Still is.
It's not as much about the 500 jumpers Mathias is known to often take before practices or the grueling ball-handling drills he'll put himself through.
It's not about how he practices basketball as much as how he processes it. Mathias doesn't watch basketball as much as he absorbs it.
Since signing with Purdue, he's shown up at practices.
With a notebook.
When he first took a recruiting visit to West Lafayette, Mathias asked its coaches for pointers on his game. When those coaches visited him in Elida for a follow-up meeting, those very tips were written on a dry-erase board in his in-home gym, serving as a standing reminder.
Mathias watched on TV on the evening of Jan. 28 when Creighton beat St. John's 63-60 on Doug McDermott's three-pointer with 2.8 seconds left.
The next day, he came to practice with that play in mind and suggested to his coach, Denny Thompson, that Elida make it part of their game plan for an upcoming game against Kenton High School.
(Elida beat Kenton behind Mathias' 25 points and seven assists; had a screen held up properly on that play, it might have worked.)
Mathias was the same way years earlier when his father was his coach and he'd come off the floor during timeouts suggesting plays to run. He was an eighth grader.
Such anecdotes illustrate how consumed with basketball Mathias is and always has been, perpetually looking to learn something new about the game or add something new to his uncommonly well-rounded array of offensive skills, with a laboratory of sorts to cultivate such skills built right into his home.
Watch Mathias play, with his ability to make a wide range of jump shots, and you see the end result of many years of him watching a lot of players make a lot of different shots, then putting in time trying to learn those very shots himself.
One example would be Dirk Nowitzki, maybe the most fundamentally unsound elite shooter in the history of the game.
Dan Mathias remembers the time his son put in to tinkering with some of the Dallas Mavericks star's unconventional tricks, the all-wrist fade-away jumpers or the double-pump bank shots thrown in high off the glass.
Dakota Mathias' own repertoire is significant, advanced well beyond most his age. He's a "shooter," per se, a long-range bomber who shoots equally effectively off the dribble or the catch, curling off picks or dribbling off them. He can make pull-up mid-range jumpers, driving leaners and his favorite shot, the turnaround jumper out of post-ups. Though Mathias starts off games in a point guard role for his high school and sees significant time playing on the wing, he also frequently rolls into the post to generate shots with his back to the basket.
But his game is well rounded beyond his shooting, as he's just as well suited to run pick-and-roll as a passer as he is to play without the ball looking for shots.
Years of watching and learning and the feel for the game and anticipation that have come with it have shaped Mathias into not only a prolific shooter but a proficient ball-handler and decision-maker.
For the type of player he is, Mathias is an outstanding — and, for a scorer of his wiring, willing — passer.
Dan Mathias admired Larry Bird in the '80s and '90s and wound up with a son sometimes referred to by friends and teammates as "Magic."
"He has a very high IQ and that makes him unselfish," said teammate Louis Gray, "because he knows when a teammate's going to be open, when a guy should cut, when the slip is there off a pick, whatever."
At the high school level, that stuff can be important to a team.
Teammates aren't going to stand around and watch their best player, because as Thompson puts it, "Dakota's that type of player where players know that if they're open, they're going to get the ball back."
"That's a big part of high school basketball," Mathias said. "A lot of kids, confidence can be an issue. Getting them the ball and encouraging them, it can go a long way."
Teammates know that even though their leading scorer can probably name his point total in most games, there's trust there.
"Even if he's making all his shots," teammate Max Stambaugh said, "he's still passing."
Thompson, the long-time Elida coach, believes that Mathias could get 50 on most nights if he wanted to and his team operated solely for that purpose.
Continue reading below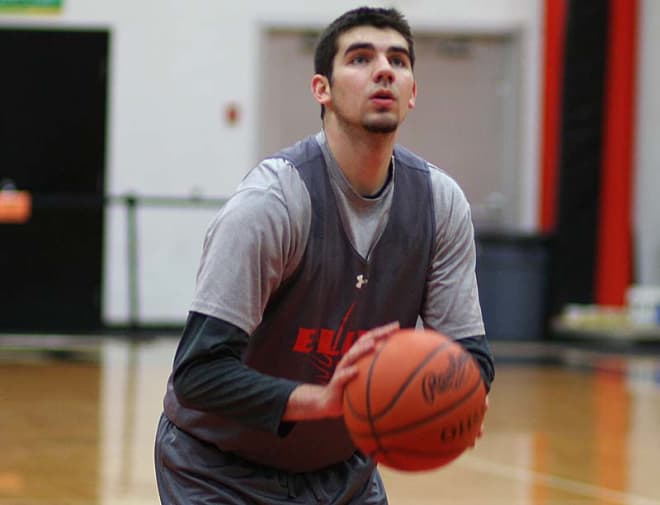 Neither will happen, though.
For such a productive scorer, Mathias rarely forces offense.
Thompson called him the "consummate team player." "He makes things fluid," Thompson said, "because there's a comfort zone his teammates have when he's on the floor."
Mathias has been a tremendously decorated high school player and a sought-after recruit. When he committed to Purdue last May, he did so over offers from West Virginia, Boston College, Dayton and others and certainly would have had more to choose from had he not committed at the very moment he was gaining wide-spread recognition.
Had Mathias wanted attention, he could have gotten it easily. For one thing, he could have signed up for one of Ohio's or Detroit's nationally known summer programs instead of spending his AAU years with his long-time friends and coaches from Northwest Ohio Basketball Club, which didn't have the highest profile but won a lot of games with Mathias the last several years.
If Mathias wanted attention, he could have held off on his commitment.
At the Spiece Run 'N Slam AAU tournament in Fort Wayne last May, Mathias "blew up," as they say, playing very well against very good teams and drawing some national media attention because of it. Reporters were drawn to him. Mathias says he didn't mind the attention, but at the time, he didn't seem like a fan of it either.
He told media he'd be deciding shortly after the tournament, when it was known he was leaning heavily to Purdue, which did everything it could to land his commitment early.
Mathias wasn't kidding.
He didn't even make it back to Elida from Fort Wayne — and it's only a two-hour drive — before calling Matt Painter to commit.
"What it kept coming back to was, 'Who's out there that you think might be better than Purdue in terms of the coaching staff, the institution and basketball?" Dan Mathias said. "Every time, he said, 'Nobody.'
"Then it was, 'How would you feel if they gave the scholarship to somebody else?' And the answer was, 'Devastated.' Once he thought about that part of it, it was really a no-brainer."
And it was a no-brainer for Purdue, too.
Since his signing, coaches have only been half-joking when they've said, "We could use him now."
Mathias' shooting, passing and fundamentals — his basketball savvy, unselfishness, etc. — certainly wouldn't hurt this current Boilermaker team.
For those reasons, it's hoped Mathias can make an impact for next year's Purdue team, though it won't be easy, as Mathias well knows.
He'll be the first to admit he's no elite athlete and foot speed will be put to the test on defense, his agility being such a point of emphasis for him that during high school practices, he won't jog from station to station, but does so in long, elongated lateral strides, as if sliding side to side for defensive purposes.
It's just another small anecdote that illustrates Mathias' attention to nuance and desire to be good.
Mathias may not be tremendously naturally gifted, but his is an old man's game. His skills have been built over the span of years through sheer work and his basketball mind sharpened through tireless study.
He's made himself the player he is today.
In the comforts of his own home, no less.