The 3-2-1: Purdue's 26-20 loss at Iowa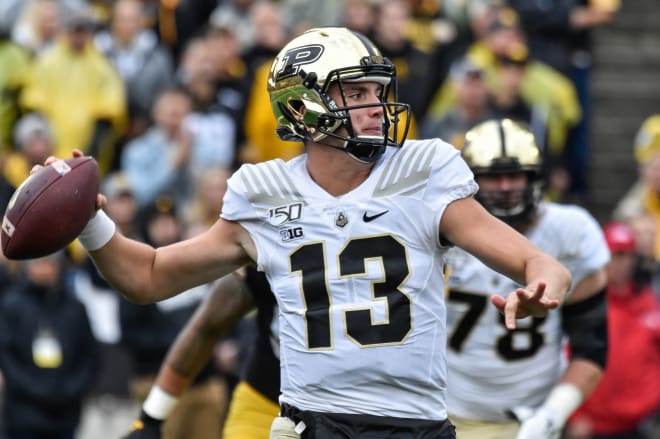 Three questions
1. Will Purdue make a bowl? Gotta like its chances, despite today's result. The defense seems to have found something since the second half of the Penn State game. The Boilermakers have allowed just five TDs in the last 10 quarters. The aggressive approach is paying dividends. No doubt, Nick Holt's defense kept Purdue in the game. Purdue has winnable games left vs. Illinois, Nebraska and Indiana at home, and at Northwestern.

2. Can this offense live and die by the pass? Past teams across the nation have shown you can win and be pass-heavy. Check out Mike Leach's squads over the years. The Boilermakers entered the day with 22 pass plays of over 20 yards. Today, Purdue had less than 50 yards rushing and over 300 passing.

3. Will we see more of senior running backs Richie Worship and Tario Fuller? Worship saw action today and had a carry. Fuller didn't get on the field. Maybe their veteran presence would juice up an often listless rushing game. If they are healthy enough to play, why not let them get carries? Purdue has one run all season of over 20 yards: a 26-yarder by King Doerue vs. Maryland. This offense needs the oomph of a run game in the red zone.

Two things I learned
1. David Bell is gonna be really good. The true freshman wideout from Indianapolis showed his skill-set on Purdue's lone first-half TD drive, making four catches for 64 yards and a TD. He is money on third downs, time and again making big plays to keep the chains moving for the Boilermakers. For the second game in a row, Bell had over 100 yards receiving.

2. Jack Plummer wasn't at his best today. The redshirt freshman wasn't supposed to play this year. But injury to Elijah Sindelar thrust Plummer into action early. He was the Big Ten Offensive Player of the Week after the Maryland game. But Plummer may have taken a step back today. He made some poor throws, getting picked on an under-thrown pass and nearly getting intercepted on two other occasions. Would it hurt to take a peek at backup Aidan O'Connell?

One prediction
1. When Rondale Moore comes back from his hamstring injury, he will form a dynamic tandem with David Bell. The two got to play together a bit the first four games of the season. But Bell was first dealing with a hamstring issue, and then a shoulder issue. He looks to be hitting a groove now and will be in lock-step when Moore returns. The tandem should cause fits for foes and will be a lot of fun to watch.