Purdue's new approach on defense: Be aggressive
Three years, three different defensive leaders for Jeff Brohm's staff.
Purdue parted ways with Nick Holt (a surprise) after the 2019 season and then did the same with Bob Diaco (not a surprise) after last season. Now, it's Brad Lambert's turn to run the defense.
Lambert's official title is "co-defensive coordinator/linebackers coach," but he'll be the one pushing the buttons on a unit that's looking to improve. Lambert isn't the lone new face on the defensive staff. Brohm also brought in Mark Hagen to coach the line and Ron English to coach cornerbacks. And Brohm seems pleased with his new additions, who will work with hold over Anthony Poindexter, a co-coordinator/safeties coach.
"I really wanted to get a collection of guys that had a lot of experience, that have coordinated things on their own, to a certain degree, but are also great people and understand that some things are going to work, some things aren't," said Brohm on Thursday. "We have to be able to work together, and then figure things out beforehand, hopefully but definitely be able to adjust during the season.
"Everyone's going to have a voice and we're all going to work together collectively to put together the best plan we can to go out there and win."
Brohm also is going to a voice in the defensive decision-making.
"Without question," said Brohm. "Without question.
"You know this defense will have to have my identity. I've been heavily involved ever since the season has been over."
Brohm didn't go into specifics about scheme on Thursday, but it's believed the Boilermakers will operate from a four-man base front. And there are three areas for this defense to hone in on moving forward coming off a 2-4 season that saw Purdue drop its final four games.
• Sacks: Purdue finished last in the Big Ten in 2020 with just five in six games.
• Takeaways: The unit generated just seven—and just one over the last four games, all losses. Only two Big Ten teams had fewer takeaways in 2020.
• Third-down defense: Purdue finished No. 13 in the Big Ten, allowing opponents to convert 43.7 percent of the time (38-of-87).
"I definitely want to see us go out there and compete," said Brohm. "Challenge plays, play aggressive. I want us to be physical. I want us to get after the quarterback and I want to make sure that we have a defense that has the identity that I believe in. And I think that's going to be the goal. I want our players that when they take the field to understand that, yes, we are going to challenge things. We are going to be aggressive in our approach. We are going to gamble if we have to."
Story continues below photo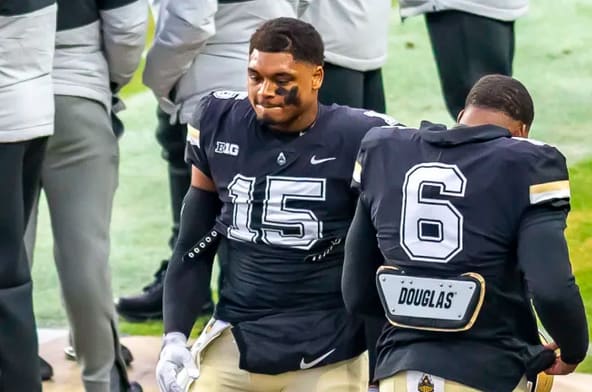 There is some promising personnel to work with led by junior end George Karlaftis and senior linebacker DaMarcus Mitchell. The staff wants to make sure that Karlaftis is in position to excel. Mitchell is an interesting wild card. The 6-3, 270-pound Mitchell is listed as a linebacker, but don't be shocked if he perhaps plays end. That's the spot from which he made most of his plays in 2020 playing the "CAT" spot (hybrid end/linebacker) after arriving from a JC.

"Playing sound, fundamental defense is probably number one," said Brohm. "But at the same time, I want our guys to get interceptions, get turnovers, make plays, be aggressive, not be scared to make mistakes, and really develop that mentality and that attitude that we're going to dictate what happens on that side of the football by our play on the field."
Purdue will be without some key players on defense this spring due to injury or surgery recovery, including linebacker Jaylan Alexander and safeties Marvin Grant and Cam Allen. All could be starters in 2021. But there is plenty of talent on hand to get the defense in place and on track this spring.

"I feel like we've worked extremely hard from the last game to now, myself and the coaches we have here, to really analyze what happened last year, analyze the Big Ten conference in general and who's playing well and what are they doing, why are they doing it and why is it working," said Brohm, who also expanded his scope to schools outside the league.

"It's important, in my opinion, that we put our players in the best position to succeed and win," said Brohm. "And we allow those guys to play aggressive, allow those guys to play with some enthusiasm and energy and know every time they take the field that we're going to dictate the tempo."