Andrew Sowinski fulfills dream by accepting preferred walk-on offer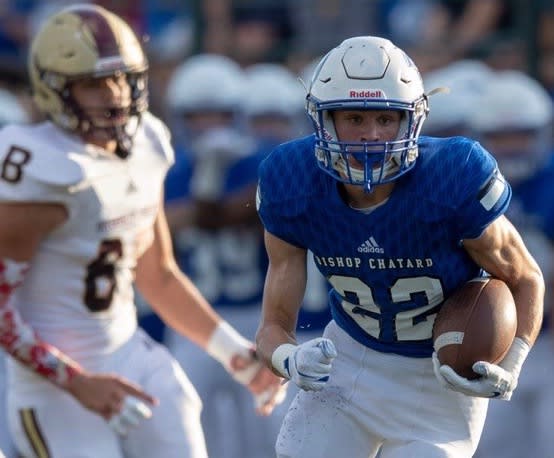 Andrew Sowinski played for Chatard High in Indianapolis, one of the top programs in Indiana that claims 14 state championships. And he hopes that competition helps him succeed at Purdue, where he recently accepted a preferred walk-on offer.
"Back in the fall. I got contacted by (director of football player personnel) Eron Hodges," said Sowinski. "They had checked out my film and wanted to offer me a walk-on spot. But at the time, I wanted to see if other opportunities would open up, and just wanted to explore my options before I made a decision.
"And then, throughout the winter, I was deciding between Purdue and Wabash, primarily. I've been a Purdue fan for my whole life. So passing up an opportunity to play for them would have been hard for me to do."
The 6-0, 175-pound Sowinski—who claims a 4.5 40-yard dash time—excelled as a senior for Chathard, which won the Class 3A state title in 2019 en route to finishing 14-1. He finished the year with 64 catches for 1,055 yards (16.5 ypc) and 22 TDs.
"I'd say like throughout my career, (my biggest strength) has been primarily running routes and just catching the ball," he said. "And I think I have really good hands. I think that's one of the reasons I was able to get on the field early in my career as a sophomore."
What does he need to improve?
"I need to get stronger," said Sowinski, who also played basketball and baseball at Chatard. "I think that's really important. I am looking forward to getting into the Purdue weight room. While I run good routes, I'm not always completely quick with them. I take long strides."
The Purdue connections run deep for Sowinski. His father works for Purdue, while one brother is Purdue grad, another is a senior this year and a third is a sophomore.
"We are a big Purdue family," said Sowinski.